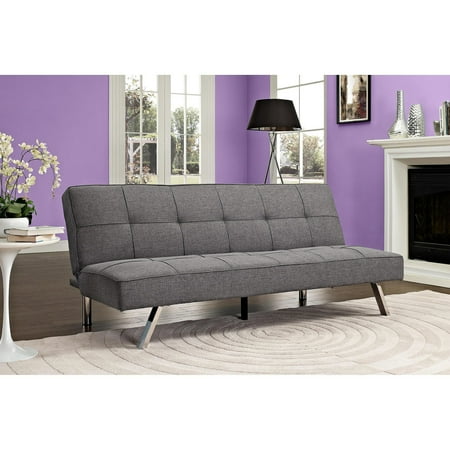 Your new Zoe Convertible Futon is much more than an attractive and comfortable modern-style sofa. It easily converts into a bed that's suitable for occasional guests or every night use, making it ideal for guest rooms, dens and small apartments. This Zoe futon is also very well made. It's upholstered in a grey linen fabric that blends in with almost any room decor and is supported by a solid wood frame. Stainless steel legs complete this grey futon, giving it the stability required for sitting, sleeping or lounging. Consider decorating the room with a bold floor lamp and white area rug for a modern look, or a light blue rug to appeal to more conservative tastes. The Zoe Convertible Futon assembles in only minutes, so you can start enjoying it the very same day you bring it into your home.
Zoe Convertible Linen Futon, Grey:
Upholstered in a grey linen fabric
Solid wood frame construction
Stainless steel chrome legs for ultimate stability
Perfect for sitting, lounging or sleeping
Sleeper dimensions: 69″W x 38″D x 14.5″H
Carton dimensions: 69″L x 39″W x 6.5″H
Simple assembly required
Weight limit: 600 lbs
Dimensions: 69″L x 32-1/2″W x 29″H
Zoe futon model # 2028429
reviews
This futon was super easy to put together, did it by myself in less than ten minutes. It is attractive and decent from a comfort standpoint. For the price it is more comfortable than I expected. I'm giving it three stars because it is far too low to the ground, awkwardly low to the point that it looks a bit silly next to any normal size furniture. Not a good choice for a main living space. I purchased this for my "dressing room", spare room that I keep my clothes in and get ready in, so for my purpose it is fine. A smaller size person could sleep on this if need be but it's really there more as a catchall, versus the floor.
Only took 5 minutes to set up. Love, love, love the look. It is firm and not something I would sit on every day, but for the price – it is awesome. Low profile makes it fit in a small space easily. When I say low, I mean low – only about a foot off the ground. Seems to convert okay, although I will probably be using this feature very seldomly. There was a ripped seam on one end and a snag in the middle, but for the price I paid, I am not sending it back – too much hassle. Main complaint is that it is a pain to pick stuff up from Walmart in this fashion. It would be super customer friendly if they made a separate door/pickup area because most things I order like this are large.
It looks more expensive than it is, very easy to use as far as from the setting up the bed.It is very nice to sit on. It has a few shades of gray in it is a almost denum like pattern/feel. The sleeper is firm, so I would get a foam mattress pad if/when I ever have older overnight guests. It is attractive & looks great in the extra bedroom.
I purchased this for our front room as a sitting area. This product sits to short and it not comfortable for people to sit on so we put it in the man crave which it ok to fall asleep on. It fits 2 people and the material is great and it's easy to lay back.