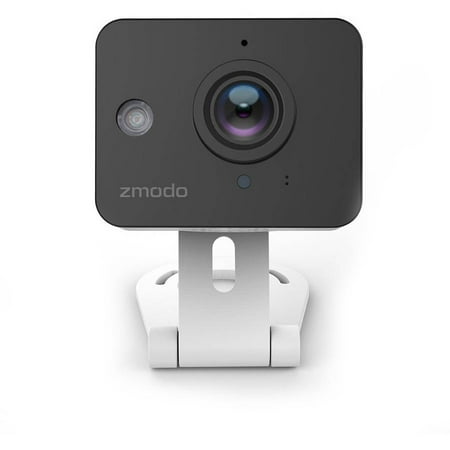 Keep track of the people and places you care about most in brilliant HD with the Zmodo Mini Wi-Fi Camera. Whether you're using a smartphone, tablet or computer, a click or two is all you'll ever need to check in. This Zmodo Wi-Fi camera provides motion alerts and offers a 115-degree field of view. It also comes with two-way audio and a free MeShare app. The compact design makes it easy to install.
Zmodo Mini Wi-Fi Camera:
Connects to smartphone, tablet or computer
Compact design for versatile installation
Free MeShare app
Security WiFi camera provides motion alerts
115-degree field of view
2-way audio
Reviews
I love this camera. It was so easy to set up. The sound and picture quality is really good.
For the money you can't go wrong. Easy to hook up and use. Works great. Has motion detection and sound detection. Alerts you and is affordable. I'm getting a few more. Great product.
Camera worked as expected and setup was a breeze. Very simple to operate. Mediocre night vision and lack of email alert option are its shortcomings.
I purchased this to keep an eye on my puppy when I'm working or away from the house. It was incredibly easy to set up and works very nicely. I like that it takes a quick video and saves it when there is movement on the camera, and that it notifies me via my phone if there is activity. I tested it in the dark and it is really impressive! You could use this at night and it would work just as nicely. I did try to use it as a surveillance through the window to the outside of the house and during the day it's great! But at night the lights on the camera itself shine onto the glass and all I get is a reflection from the window rather than a picture of outside. But all in all, you can't beat this little gadget for the price!
I like the camera, but the MeShare app could use some updating and stability.
Motion detection stopped working after 10 minutes. Will be returning.