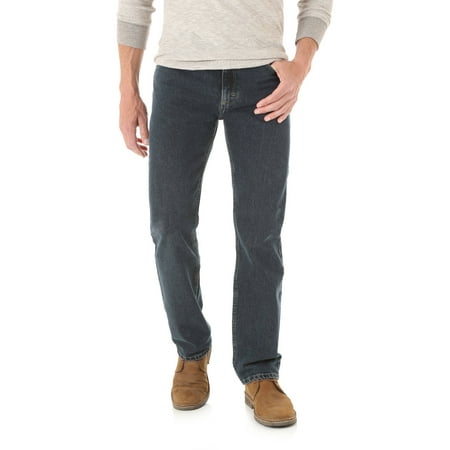 Meet your new favorite jeans. The straight fit through the seat and thigh is modern and hip, but these jeans are all Wrangler. That means outstanding comfort and durability so renowned they come with a 1-year guarantee.
Wrangler Men's
Straight Fit
100% Cotton
2 Side Pockets
2 Back Pockets
1 Key Pocket
Zipper fly with button closure
Machine Wash
One Year Guarantee
reviews
Wear them daily, The straight fit are perfect fit I have found the regular fit to be too baggy. These are perfect fit not baggy but not tight. Will purchase more. Please do not discontinue or change the fit!!!
Excellent jeans, not narrow and not baggy. Just what you need. One remark – the real color is different from the picture.
I know what I'm getting with Wrangler and I'm always satisfied.
I like the U shaped crotch, it keeps them from binding when working on your knees or bending over.
Bought a pair of Wrangler 5-star straight fit jeans at a local store. They look as though they will fit good – after I cut and hem (approx. 3″ off bottom). Do you ever make a shorter length in this Wrangler Jean??? Looking for a 28″ or maybe a 27″ length. Cannot find any that short and I always have to hem jeans since all I can find is a 30″ length.
Really like the fit of these jeans. Not too loose, not too tight. Fits over my tennis shoes just right. Red Wrangler patch is cool. Would be absolutely perfect if they had a little stretch like the Advanced Comfort jeans. Overall, I love them. Bought 3 pairs. Awesome everyday jeans. Now, please don't change or discontinue them!
Husband loves the fit, He really wants a carpenter jean with the same fit as even the regular carpenter legs are to loose on him, (let me know when I can get them) 🙂 Thanks
excellent jeans for my husband, not baggie, just with they would come in a shorter length. Always have to take them to the tailors but it's worth it.
These are the same as the 2 pairs of " Regular Fit" that I ordered in the past,these are "Straight Fit " ,no difference in the two! The inseam is way too long ,your sizes are not as you say they are and when are you going to offer shorter inseams for us short legged men ? Poor quality zipper on my latest order !