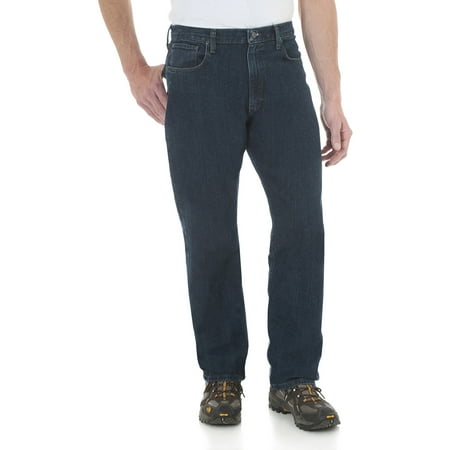 The Wrangler Men's Advanced Comfort Relaxed Fit Jeans help you to get the look that you want at work, play or other occasions. They're made entirely from cotton to be soft and comfortable. These Wranger relaxed fit jeans have a button closure and a zipper fly for easy access. They sit at your natural waist.
Wrangler Mens Advanced Comfort Regular Fit Jean:
Cotton jeans
2 front scoop pockets,1 watch pocket, 2 back pockets
Button closure with zipper
Regular fit
Sits at natural waist
Regular seat and thigh
Straight leg opening
Innovative flex waist
Premium comfort
20% stronger guaranteed
Machine wash cold
Wrangler relaxed fit jeans come in dark denim 1 or medium denim
Available in sizes 29″ x 30″, 29″ x 32″, 29″ x 34″, 30″ x 29″, 30″ x 30″, 30″ x 32″ 30″ x 34″, 31″ x 30″, 31″ x 32″, 31″ x 34″, 32″ x 29″, 32″ x 30″, 32″ x 32″, 32″ x 34″, 33″ x 30″, 33″ x 32″, 33″ x 34″, 34″ x 30″, 34″ x 32″, 34″ x 34″, 35″ x 30″, 35″ x 32″, 36″ x 29″, 36″ x 30″, 36″ x 32″, 36″ x 34″, 36″ x 38″, 38″ x 29″, 38″ x 30″, 38″ x 32″, 38″ x 34″, 38″ x 38″, 40″ x 29″, 40″ x 30″, 40″ x 32″, 40″ x 34″, 40″ x 38″, 42″ x 30″, 42″ x 32″, 42″ x 34″ or 42″ x 38″
reviews
old Levi's guy in my youth. These have become my new favorite. They fit great and are very comfortable. Will be buying these from here on out. Get a size smaller in waist, as after wear they stretch some.
Purchased for my husband and he loves them. Very comfortable and good fitting jeans. These will definitely be the ones we will reorder as needed.
Love the stretch fit. Makes them more comfortable and less likely to shrink with age. These are my 2nd and 3rd pair. Not sure why some say these don't hold up. Mine are as rugged as the original relaxed fit, but fit better!
These jeans are true to size and made very well. I will buy more. Well worth the price.
fit perfect were delivered faster than I expected thanks
I wear jeans for my job. I am a big guy so I need comfort and dependability. Definetly recommend
I was so pleased when I put the jeans on. They are the most comfortable jeans I have ever owned. Very soft and comfy in the crotch.
These jeans are very comfortable to wear and have a degree of stretch to the fabric for easy movement.