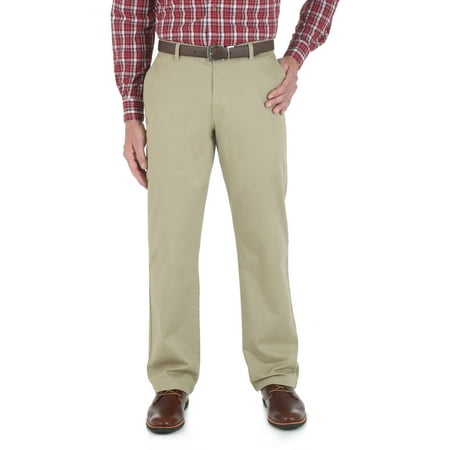 Wrangler Men's Advanced Comfort Performance 4Way Flex Pant is an update to the classic khaki with added qualities. The fabric is designed to move with you, providing all-day comfort. The men's khaki pants have straight legs and a flat front that look good on just about anybody. The super soft khaki material is 100 percent cotton, which is easy to wear. They are ideal for casual days at work, running errands and going to a family restaurant. With neutral colors to choose from, they will go with most clothing in your wardrobe. You'll enjoy wearing these straight fit pants because they look good, wear well and are comfy.
Wrangler Men's Advanced Comfort Performance 4Way Flex Pant:
Advanced comfort
Straight fit pant
Flat front
Performance flex fabric
Super soft khaki
100% cotton
Also available in big men's sizes
One year guarantee
Available colors: black, camel and grey mist
Available sizes: 30×30, 32×30, 32×32, 34×29, 34×30, 34×32, 34×34, 36×29, 36×30, 36×32, 36×34, 38×29, 38×30, 38×32, 40×29, 40×30 and 42×30
Directions:
Fabric Care Instructions: Machine wash cold with like colors, only non chlorine bleach when needed, tumble dry low or line dry, medium iron
reviews
I have nine pairs and I wish Wrangler made them in green. I also wish they offered them in tan again.
These pants are great, to some they would fit loosely, but the free space is wonderful for how much I move, and they don't ride up like the other Advanced Comfort pants. Just need the darker khaki color back.
I have gone through several pairs of these pants in all offered colors. They are true to size, comfortable for both work and play and are tailored well enough to use in business casual environments. One might expect clothing made of comfortably soft fabric to be flimsy, but these pants hold up to daily wear as well as of the dozens of pairs of chinos I've used in the past. Caring for these pants is easy. Wash them in warm water using a delicate cycle and dry them on a warm permanent press cycle and they'll treat you right. In short, I recommend these as go-to pants for most occasions.
These pants are perfect! Comfortable, true to size, and actually pretty soft! Already ordered two more pairs!
Very comfortable. extremely affordable. I work in a restaurant, these are the best work pants I've owned.
I am genuinely surprised by the low reviews on these pants.! We found them in a local Walmart a year ago and it was love at first sight. We could never find them again after that though.! Once these showed up on the website, I knew it was them and had to order 3 new pairs. These pants are NOT 100% cotton. They are 98% cotton and 2% spandex. That 2% of spandex makes a WORLD of difference. These pants are VERY soft, very comfortable, and allow you to move comfortably. My fiance wear these for work, which requires him to crouch down, bend, etc, a lot, and these are the only pants that don't restrict him. They hold up on average for about a year for us, which is great considering each pair gets worn nearly twice every single week, plus being washed (and not in the recommended way.) Absolutely love these and hope they are kept around again this time. Also, we've never had any kind of sizing issues. We buy them in the same size he wears in other pants, and they also fit correctly with no problem.
Really like these pants, bought a pair the other day size 30-32 , the store only had the camel color in that size. Would like to get in a 29-32 size and another color, went on line to see about size and color. Nope what the heck, I can't even get the 30-32 size in any color. That's what I can't stand about Walmart. You find a product you like and then they quit carrying it. What a joke.
These slacks are great for every day wear. The comfort waste makes them comfortable for all day wear.
The legs are too wide with too much material. The length is too long by 2-3″. The material is soft, waist stretches.
Wrangler Men's Advanced ComfortStraight fitFlat FrontPerformance Flex FabricSuper Soft Khaki100% CottonAlso Available in Big Men's SizesOne Year Guarantee
Wrangler Men's Advanced ComfortStraight fitFlat FrontPerformance Flex FabricSuper Soft Khaki100% CottonAlso Available in Big Men's SizesOne Year Guarantee