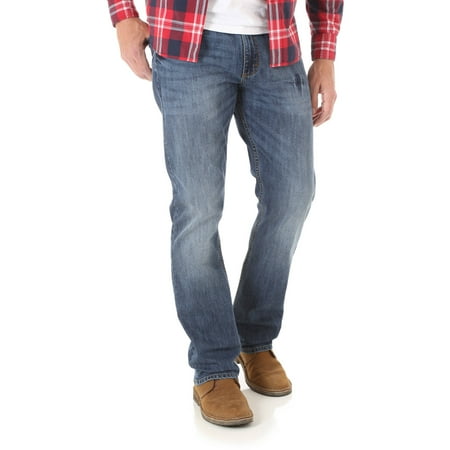 These Wrangler Men's Jeans, Slim and Straight, are terrific for a wide variety of occasions. They feature stretch fabric for all-day comfort, and they have our signature W stitch on the hip pockets. The slim style of this clothing for men creates a sleek and stylish look that is refined and versatile. They also have five pockets for ample and convenient storage, including front scoop pockets.

Wrangler Jeans Co. Men's Slim Straight Jean:
Wrangler Jeans Co. Men's
Wrangler clothing features a slim, straight fit
Five-pocket jeans
99% cotton, 1% spandex
Spade hip pockets with signature W stitch
Scoop front pockets
One-year guarantee
Comes in sizes 29×30, 29×32, 30×30, 30×32, 31×30, 32×30, 32×32, 32×34, 33×30, 33×32, 34×30, 34×32, 34×34, 36×30, 36×32, 38×30 and 38×32
Comes in dark stretch and indigo midshade
reviews
Best pair of jeans I've ever had. Bought them when I was 16 and two years later they are finally worn out. Plan to buy some more!
I bought these jeans, in a 36×30 size. No matter what I buy, the length has to be shortened. Got them back from the seamstress, and I now have the best fitting jeans I have ever bought. The weight of the material is not as heavy as the usual Wrangler, but these are c-o-m-f-o-r-t-a-b-l-e. I will be buying them again – soon.
Bought one of each color. The light pair has a defect on the front leg in the denim washing like a patch wasn't removed, which is clearly visible. The dark pair has one pocket that doesn't have enough denim going toward the zipper and shows the stitching and pocket bags when walking.
Wrangler Jeans Co. Men's Slim Straight Fit 5 pocket Jean 99% Cotton 1% SpandexSpade hip pockets with signature W stitch Scoop front pockets One Year Guarantee
Wrangler Jeans Co. Men's Straight Fit5 pocket Pant Floating watch pocket Spade hip pockets with signature W stitch