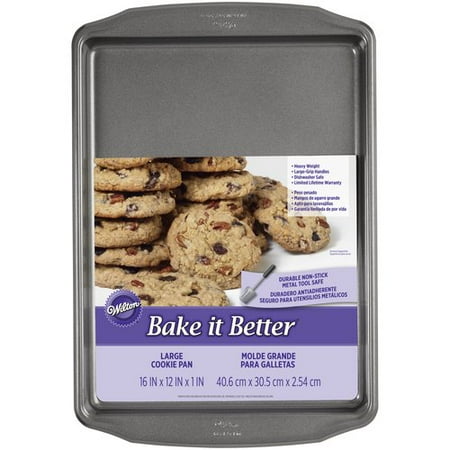 Prepare picture-perfect cookies with the Wilton Bake It Better 16″ x 12″ Cookie Sheet. This professional-quality pan is designed for the serious baker, with Wilton's quality construction that cooks have trusted for decades. The Wilton cookie sheet is made of steel, with a durable non-stick coating that is metal-tool safe. The coating is easy release, so cookies and other creations slide off the pan with easy after cooling. The pan has large grip handles for easy removal from hot ovens. The non-stick cookie sheet is dishwasher safe for easy clean up.
Wilton Bake It Better 16″ x 12″ Cookie Sheet:
Durable, non-stick coating
Easy release
Large grip handles
Material: steel
Dishwasher safe
Non stick cookie sheet is metal tool safe
reviews
This pan is a good size. Worked perfect for what I needed it for. Would definitely recommend!
These are pretty good pans for the price and we usually get about 3 years out of them BUT, do not use cooking sprays (re Pam) as that ruins them and the non stick surface. The sprays leave a film that bakes on and will not wash off
Ordered online came fairly quickly and works great.
The quality of the cookie sheet is durable and solid. When I used it the other day, the item on the sheet baking was evenly baked when I finished. Am very pleased
These Wilton cookie sheets are very sturdy and nice. They were extremely cheap too. Will definitely buy more as needed.
great surface easy to pick up with good rim heavy duty for a reasonable price
Due to the number of cookie sheets, I already own, I hesitated in purchasing these. so glad I did ! The cookies I baked using them are perfect !
I ordered these cookie sheets for my daughter for Christmas. She likes how sturdy they are. They are also supposed to be dishwasher safe. Wilton makes a very good product.
I was excited to send two of these cookie sheets to my daughter. The reviews were high, I saw it in the store, and she needed them. Unfortunately, the first time she used one was not a good experience. She heard a loud pop. When she opened the oven door, the cookie sheet was warped & twisted on one end. The oven temperature was only set at 400 degrees; her oven is also new. This should NOT have happened! To add insult, the item can not be returned because she doesn't have the original packaging. I don't know if this was a defective product or not – will not purchase item again.
Wilton Bake It Better 16" x 12" Cookie Sheet: Durable, non-stick coatingEasy releaseLarge grip handlesMaterial: steelDishwasher safeNon stick cookie sheet is metal tool safeSee all Bakeware on Walmart...