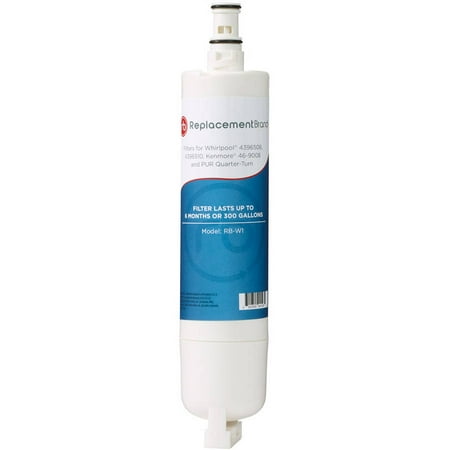 Designed as a comparable replacement for the Whirlpool 4396508, 4396510 and EDR5RXD1, the Refrigerator Water Filter by ReplacementBrand will provide you with the same delicious tasting water at a better-looking price. It reduces up to 99 percent of contaminants common in older pipes, well water and city water, including asbestos, lead, and chlorine. Make ReplacementBrand filters your choice for high-quality and affordable water filter replacements. The comparable model for Whirlpool 4396508 can be your go-to when looking for a refill, which will work without damaging your machine or altering its functionality. It will install readily into the holder and work to keep your water tasting fresher. The refrigerator filter makes quick work of straining out the things you don't want in your water, which might harm you or alter the taste. A go-to solution, it can work for up to 300 gallons of water. The Refrigerator Water Filter by ReplacementBrand ensures you, and your family will have water free of dangerous elements or chemicals.

Whirlpool 4396508 Comparable Refrigerator Water Filter by ReplacementBrand:
Comparable to the EDR5RXD1
Comparable filter for whirlpool 4396508 will last for 300 gallons or 6 months
Reduces chlorine taste and odor with an Activated Carbon Block Filtration media
Also reduces other impurities in your water
reviews
That it may have to be filled with water first time and that it will not work if you don't do it and it may break another part on the appliance
This replacement does fit my refrigerator. How many impurities it is removing, I don't know. Water tastes ok.
Easy replacement. Fits perfectly. No leaks.
Perfect replacement filter at the perfect price. We saved over 50% by purchasing this filter from Walmart.