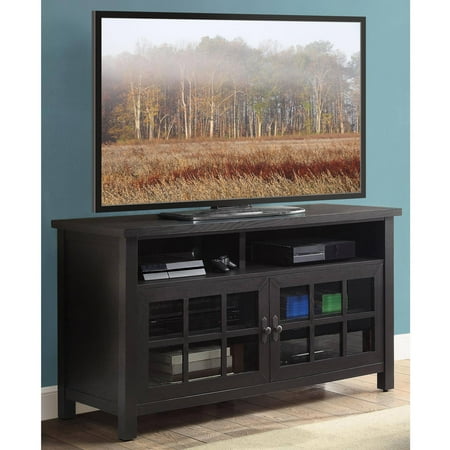 Keep audio and video equipment, knick knacks and more organized and centrally located with this stylish Whalen 54″ TV Console. It is constructed of sturdy wood and features a rich espresso laminate finish that will blend with many decor styles. This Whalen TV console has cabinets with adjustable shelves and tempered glass doors for easy viewing of content. Additional features include two open shelves for audio and video equipment and cable management cutaways for added convenience. Ideal for a living room, bedroom or den, this espresso TV console for TVs up to 60″ has adjustable floor levelers.
Whalen Espresso 54″ Table Top TV Console for TVs up to 60″:
Fits most flat panel TVs up to 60″ and up to 135 lbs
Espresso laminate finish fits with any decor
Open shelf for storing audio and video equipment
Accessory and DVD storage cabinets
Tempered glass cabinet doors
Adjustable shelves
Cable management cutaways
Whalen TV console features adjustable floor levelers
Dimensions: 54″L x 20″W x 30″H
Model# AVC-32E
Reviews
Overall the product was exactly what I needed and it looks good overall. My only complaint is the camlock system. The parts they use for the camlocks are cheap and break easily before they are completely locked in place.
It took me 4 hours to put this together. I am in my fifties and a woman. So, I think I did pretty well. The only thing that was a little hard for me was that it is very heavy. But, I love the finished product. Beautiful and I still cannot get over the price. Very good deal. Just be careful not to scratch it, it scratches easily, but the marker that comes with it, takes care of it if you do scratch it. I do recommend this product. Very nice looking.
Better have some muscle to get this huge 135# box inside but it's well worth it. Not my first rodeo putting together stuff like this so I timed myself and just going at an easy pace it took me 1 hour, 33 minutes. The unit looks quite dark and seems pretty sturdy only after the back panel went on. I will say I'm a little concerned about how long it will remain fitting together tightly as the cam locks didn't always seem to want to pull the pieces up tightly in areas. The instructions were almost perfectly written. The packaging was a bit thin, but fortunately mine was received intact. Very roomy and all my electronics fit great. All finished and done I am very pleased with how it looks.
Having begun to foster a 1 year old girl we needed to find a solution to her resting the dvr. We spent several days looking at similar units. We are very pleased with the materials used and design. We can watch TV and the foster baby can't get to the dvr now. Looks great in the space too.
I love this piece. It goes perfectly with the existing furniture we have. It was time consuming to put together but worth it. My only complaint is once it was together and upright it was wobbly even after tightening everything down again. The package was damaged quite a bit once we received it but only a few spots on the actually furniture were damaged. Everything covered well with the touch up pen.
This stand is beautiful and very reasonably priced. The instructions were easy to read and follow, set up was easy as well. I'm am very glad I purchased this stand.
I am honestly very surprised this has as many good reviews as it does. This is probably the worst piece of furniture I have purchased. Even cheaper pieces I have purchased are better quality. The board that the TV sits on is cracked right in the middle in the front and back from where they placed staples in. The screws and cam locks strip easily. I have never in my life had a screws head break off while screwing it in until I put this tv stand together. The cam locks strip easily and most didn't turn easily and wouldn't lock into place like they should have. The wood glue is a joke because it doesn't work. The stickers placed on the wood do not come off easily. I went to take one off and it took the espresso coating off with it. The doors, no matter how much I mess with them, either gap at the top really bad or to the left and right. I have never had an issue placing doors until now. The shelves scrape badly. It's almost like they are a tad bit too wide. After assembled, I was placing DVDs in the cabinet sections and a cam lock just fell out. I have a 55″ TV and I am scared this TV stand is going to break on top or fall apart and ruin my TV. Unfortunately, I spent the money on this one and feel like I already need to buy a new one after only a few days. I will NEVER buy anything Whalen again.
Whalen Espresso 54" Table Top TV Console for TVs up to 60":Fits most flat panel TVs up to 60" and up to 135 lbsEspresso laminate finish fits with any decorOpen shelf for storing audio and video equipm...