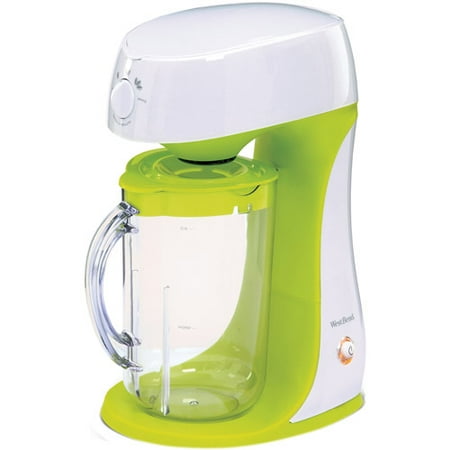 Brew a refreshing batch of iced tea with this easy-to-use West Bend Iced Tea Maker, Green. This useful kitchen device offers timed brewing and steeping settings that make it easy to prepare perfect tea every time. The electric iced tea maker features a brew strength selector that allows you to steep your blend according to your preferences, whether you prefer strong, mild or a delicate balance in between. A removable sweetener chamber conveniently dissolves your sugar during the brewing process. The West Bend tea maker has a large, 2.75 qt plastic pitcher and a modern, green and white design that adds color and cheer to any kitchen countertop.
West Bend Iced Tea Maker, Green:
Timed brewing and steeping settings
Brew strength selector
Removable sweetener chamber conveniently dissolves sweetener
2.75-qt plastic pitcher
Auto shut-off
"On" indicator lighting
Drip tray
750 watts
Plastic construction
Dimensions: 10.24″L x 7.7″W x 15.21″H
One-year limited warranty
Model# 68305T
reviews
Gets used at least once per day. Compared to Mr Coffee tea maker – body design and placement of the pitcher prevents tea from running all over the counter if the pitcher gets bumped, unlike the Mr Coffee. Sweetener compartment is a great idea (Mr Coffee doesn't have one) but sugar doesn't always dissolve and there is sugar left sometimes. The steeping basket design causes the lid to get messy, but that's easily cleaned with a paper towel – still easier than cleaning up a quart of tea from your countertop like the Mr Coffee. No warranty card to fill out, so I wonder how to replace if it fails under warranty. I had the original design Mr Coffee from the 1980's, which lasted until 2014. I went through 6 Mr Coffee tea makers in less than 2 years since then. Will definitely buy this design tea maker again.
I bought my mom this tea maker over a year ago. She uses it several times a week. It is SO easy, and the tea tastes fantastic! I am going to buy one for myself now!
I have been using a west bend tea maker for 25+ years and have not been able to find one as good now I have! Love it
Makes superb iced tea-do not need all the new additions but they do not hamper the original function and result
This iced tea maker is a good value for making iced tea without spending alot of money. I haven't tried it using loose tea, but it works fine with tea bags.
no dripping set your brewing strength pour water in option of adding sweeter before brew or after, walk away come back to tea made no pot to watch, shuts off automatically, just add ice for cold or leave warm.
I love my iced tea, and this product makes it so convenient to make. You can't go wrong at this price. My only complaint is that it only comes in one color – apple green & white.
I got to use the tea maker just 1 time before the switch went out. I had read the reviews and this was the main complaint. My previous tea maker was a West Bend. It was very similar to this one. I had it for many years before it started leaking. I was really shocked that this one tore up so soon. I will not purchase another.