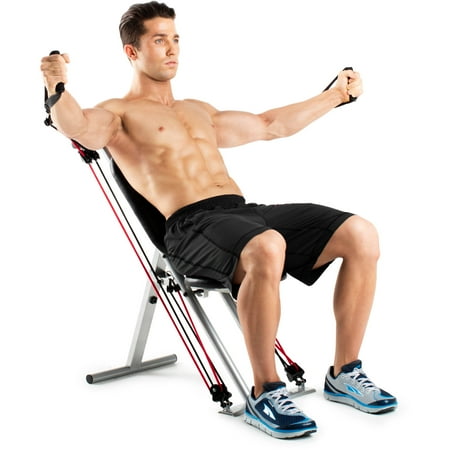 Say hello to your new total-body workout without the clunky weights. The Weider Bungee Bench takes up less space than most home gym products and easily folds flat for simple storage. Just take a seat and get started. The light, medium, and heavy resistance levels bring dimension to your workouts and progress with you as you get stronger. Focus on upper-body, core, and lower-body movements when you clip in to the adjustable handles. And if balance is a problem, the Bungee Bench is the perfect solution. You can complete a full workout completely seated.
Weider Bungee Bench Total Body Workout System:
Swivel seat with lock
Easily swivel from left to right as you move through different strength exercises
3 levels of resistance
Light, medium, and heavy resistance levels
2 backrest positions
Lean back with the natural frame design, or lean forward with a slight adjustment
2 comfort-grip foam handles
2 adjustable hook and loop ankle attachments
No assembly required
Collapses flat to fit under the bed or in the closet
reviews
Enjoying bungee bench and don't have to go out to the gym.
This is a great machine to stay in shape, it is easy to use and can be stored under the bed.
I purchased the bungee bench at my local Walmart. I have used it daily for 2 weeks. It's great for small spaces. I have bad knees so being seated for most of the exercises is perfect. I would recommend this for anyone who is a beginner.
Pros: Overall, the gym is very sturdy and well put together. When you exercise on it, it does not move and isn't flimsy like some other seated exercise products. The dvds that come with the bench help to figure out various exercises you can do with the bench. Also, I like the fact that the bench has a swivel chair included that can be used for light cardio exercise (there is a swivel seat exercise on the dvd). I also like that the gym came put together and all you have to do is pull it out of the box. For me just getting back into working out, this gym is a great product. Cons: The neck support could be a little better, especially when using it in the decline position.
The Bungee bands can be used at three different levels and provide a good amount of resistance. The chair/bench is poorly designed and uncomfortable. The straight-up position is too straight, and the reclined position offers no neck support. You have to be creative in finding the most comfortable and beneficial positions to perform resistance exercises.
I bought this as I don't have much room at home. I am pleased that it folds up and fits in my closet. I like the adjustable resistance. It isn't as easy as I would like to change over workouts but it doesn't have to be done often. Over all it is a good gym.