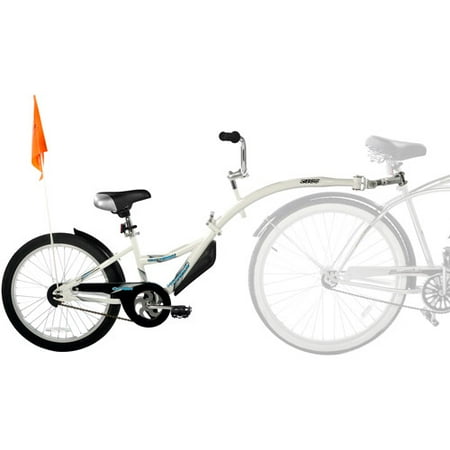 The WeeRide Co-Pilot Bike Trailer is a great way to introduce kids to the fun of two-wheelin' with mom and dad. This child's bike trailer is safe and easy to attach to nearly any adult bike, and simple for kids to use. The WeeRide Trailer features an adjustable seat and handlebar to fit different-sized riders, and a high-profile safety flag for better visibility.
WeeRide Co-Pilot Child Bike Trailer:
Attaches easily to nearly any adult bike
True quick-release system for fast detachment from adult bike
Freewheel design allows the child to coast while parent is peddling
Front splash fender adds puddle protection
High-profile safety flag for better visibility
Quick-release folding arm for compact storage
Requires no balancing from the child
Frame: fully welded steel frame
Stem: 4-bolt stem
Gearing (# of speeds): single speed
Wheels: 20″ alloy wheels
Tires: 20″ knobby tires
Rims: durable steel rims in silver
Handlebars: adjustable, steel handlebars
Seat: adjustable, padded seat
Pedals: plastic pedals
Chain guard: custom-designed for better protection
Weight limit: holds up to a 75 lb rider
Assembly: adult assembly required
Dimensions: 66″L x 22″W x 35″H
reviews
We are very pleased with this purchase. My 3 1/2 (tall kiddo) was starting to put up a fight in his bike trailer so we decided to try this. Installation was pretty easy. We adjusted the handlebars back a bit and he was ready to roll! We have used it daily and he is starting to pedal now! Since this was 1/2 the price of other attachments like it, it was a great value. Only suggestion is to make wide turns so it doesn't tweak your seat out of alignment. Also, my kid already kicked off the mud flap attachment so we just kept it off. Also added padding to the handlebars for safety.
It's a good buy, but much heavier than I thought it would be. A possible aluminum version (instead of steel) would've been better. Overall, I am satisfied with the product and hence giving 4 stars
Works great. It fit my 3 foot 7 inch 5-year-old fine, with plenty of room to grow, but it probably wouldn't fit someone much smaller. It would be nice if the quick release that attaches it to the adult bike was easier to use, but that's not a big problem.
Received bike exactly as specified. Easy assembly and for the price was a great deal.
Received quickly and product is made really well. Heavy duty bike! Can't wait until spring to use it. I know my grandson will love it.
Our 7 1/2 year old has Autism and this gives me a piece of mind that he can't dart out into traffic as we ride in our neighborhood. My husband had to tighten my seat extra tight to keep it from turning as I turned a corner but now it rides perfectly. My son is a 2nd grader, 58 pounds and 51 inches tall. We had to put the seat at the lowest setting and turn the handle bars around so it is comfortable for him.. So he has a lot of room to grow with this bike. We purchase my bike and his bike together and both tires needed air when it arrived. Shipping was fast and bikes delivered without any damage.
I got this for my 3 (soon to be 4) year old for Christmas. It was easy to assemble and can be easily adjusted in the seat and handle bars. We love it.
I bought this to ride with my 4 yrs old son, and he is very happy pedaling along with me on the bike trails. It is very easy to connect/disconnect. Took me less than 2 minutes to connect/disconnect.
We think the bike wasn't welded straight so when it follow behind the rider it leans a little. We have had this make before about 3 years ago, we didn't have that problem.