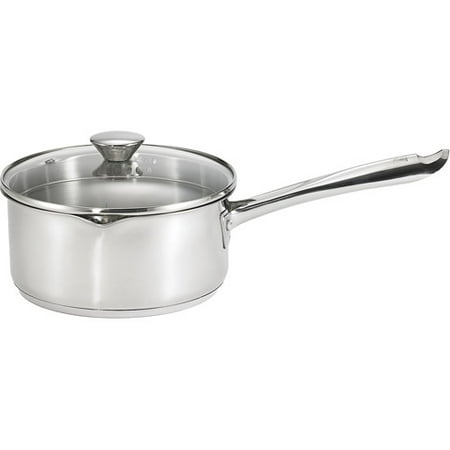 Whip up delicious gourmet meals with the right tools such as this WearEver Cook and Strain 3-Quart Stainless Steel Saucepan. This model lets you prepare tasty dishes in style. With its neutral and minimalist look, it will blend well with most kitchen interiors and bring elegance to your space. It is also easy to pair with whatever pots and pans you already have. This WearEver saucepan simplifies the cooking process with a pour spout and a convenient straining lid, allowing it to strain your food immediately with no need to transfer to a colander or strainer. This brand is a popular choice among professionals. This 3-quart saucepan has a tri-ply disc base and is designed with riveted handles for easy handling and mobility. It is oven-safe up to 500 degrees, which means it can used on both the stove and the oven.
WearEver Cook and Strain 3-quart Stainless Steel Saucepan:
Pour-spout and straining lid
18/10 polished stainless steel exterior
Impact polished tri-ply disc base
Riveted stainless steel handles
WearEver saucepan is oven safe to 500 degrees
Lifetime limited warranty
Model number: A8342465
3-quart saucepan's straining lid eliminates transfering to a strainer or colander when straining food
Preferred by most professionals
Simple design makes it easy to match with your existing kitchen interiors and other pots and pans
Warnings:
California Proposition 65 Warning: WARNING: This product may contain chemicals known to the State of California to cause cancer andbirth defects or other reproductive harm.
reviews
I was hesitant going from non stick to stainless – but I am so glad I did. I did a little research first and the reviews of this pan are as good as the more expensive ones out there and some the reviews are better for this! The quality is awesome! I also did a little research on caring for stainless steel pans. After they are washed and dried (very important!) they should be cured (not with oil like cast iron) with lemon juice! Warm water (little soap – only if necessary) and then about a tablespoon of lemon juice wiped in with a soft absorbent cloth. They will stay as beautiful as the day you got them! Try it! I love the straining lid and I also bought the 10 piece set that matches! Love my pan!
5 years & still going strong. Used on campfires too. everything works. You can see your food/water boiling thru the glass-benefit. I put that glass thru heck, traveling in back of Ford Explorer, campfire and on barbecue pits, glass is as good as new. I cook every time in this pot for 5 years. It's just made well. And the thick plate on bottom distributes heat evenly to the cooking surface of the pot. Boiling chicken quarters is 2's company, 3's a crowd.
I bought both pots together the larger one & the smaller one, love love love these pots. Very well worth the money. My son is moving out and the thing he wants is my lager pot!!! He uses it EVERY day and cleans up like a new shiny penny. I just can't live without my pot… So ordered my self a new one today! Wall mart is the cheapest I could fine it. You will not be disappointed… Don't waste you time buying other brands.. I did and they are not as heavy duty as these are.
Lovely, lovely, used it the same day I got it and it proved a point. I had a dish needing this size and this was/is excellent. Great for rice, pasta, potatoes… Nice size, great feel to lift, quite safe, no sticking and wonderful clean up. Cook for one, maybe two sometimes, perfect. Highly recommend and the price is quite good.. Thank you for this one
I like this pan very much. I like the straining lid, wish it locked in place so I wouldn't have to hold it, but otherwise I like it. Don't have to worry about scratching the non-Teflon surface.
Already have a set of Wearever pans. This 3 quart pan is exactly what we needed. Very happy with it, the handle getsw alittle warm, we have a gas stove. Like the lid with vents and it is easy to pour from. Very satified with the pan.