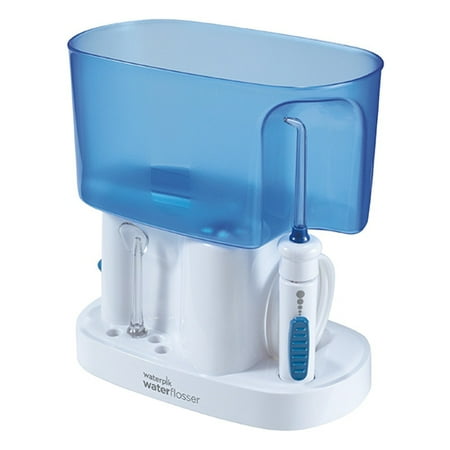 Cleans deep between teeth and below the gumline, while massaging and stimulating the gums.
UPC: 073950200066 – Waterpik Personal Oral Irrigator Cleaning System Wp-60W, 1 Ea – Cleans deep between teeth and below the gumline, while massaging and stimulating the gums. – Waterpik classic water flosser, personal oral irrigator cleaning system, #WP-60W
Classic Water Flosser with traditional design, three unique accessory tips, six pressure settings, and a large reservoir that doubles as a hygienic storage cover. Easier and more effective than string floss.
Most dental professionals recommend brushing and flossing to keep your teeth and gums their healthiest. Unfortunately, nearly 90-percent of Americans don't floss on a daily basis, and most people simply do not like to floss. Finally, there is an easier and more effective alternative to string floss. The Waterpik water flosser.
It provide a unique combination of water pressure and pulsations to massage and stimulate gums, and remove plaque deep between teeth and below the gumline where traditional brushing and flossing cant reach.
It offers a balance of performance and affordability with a traditional classic design. It also has a reservoir that doubles as a hygienic storage cover for the tips and handle.
Waterpik Ultra Features:
Three Unique Tips (included):

Classic Jet Tip – For general use. More effective than string floss for healthier gums.
Pik Pocket Tip – For periodontal pockets and furcations. A soft rubber tip designed to gently deliver medicaments and rinses deep below the gumline.
Tongue Cleaner – Removes bacteria from the tongue to freshen breath.

6 pressure settings.
Pause button on handle.
Can use with your favorite mouthwash.
Two-year warranty.
Contents:
Waterpik WP-60 Classic Water Flosser, reservoir, three unique tips, one Classic Jet Tip, one Pik Pocket Tip, and one Tongue Cleaner.
Clinically proven benefits:
Ideal for those who dont like to floss.
Up to twice as effective as string floss for improving gum health.
Removes 99.
9% of plaque from treated areas.
Cleans deep between teeth and below the gumline, while massaging and stimulating the gums.
Healthier gums in 14 days.
Guaranteed.
Takes only a minute a day.
Warnings: 
Warning Text: Keep out of reach of children.
Directions: 
Instructions: Use as directed on package
Reviews
Cleans well without shooting water all over the bathroom! Runs smoothly and quietly
I bought my first Waterpik 32 years ago, and it stills works as new. Unfortunatelly the water tips were no longer produced and it rendered useless the whole sprayer. I bought a new model, the WP-60, and as expected, it works flawlessly with its new designed water tips. I cannot see what advantage they offer and that would be the only drawback I can find with this machine, because every time the water tips are discontinued the whole machine is rendered useless. Somehow it is disposable in the long term. About the operation, it is simple and intuitive, the water pressure has seven strength gradations, sufficing the first one for a deep and throughly cleaning. Before going back to Waterpik I tried a chinese model which became disposable even faster, it worked about a year and never delivered the proper pressure. I think Waterpik has a market niche in which is the best and only option. My only drawback is the discontinuing of the tips, every time the company decides to do so, the whole machine is useless.
I purchased this approximately 3 weeks ago and have been using it at night before I go to bed. Since using I can feel the difference in my gums and teeth. So happy that I invested in my waterpik…
Have used Waterpik products for more than 30 years and have always been happy with the results I have had in using them. Will continue to stay with this brand as long as get these great results .
I bought my Waterpik about 2 months at the recommendation of my son, his wife, & their 7 year old daughter who loves to use it. It is so much easier than flossing & using an inter-tooth mini brush. My teeth feel so smooth-like I just had a cleaning at the dentist office. Love it.
I have used a Waterpic for many years. I don't think I could manage without one. I find brushing my teeth is not sufficient to remove small matter from my teeth. The Waterpic always removes more small matter and makes my mouth feel clean again.
Purchased this less than 1 year ago. It's never been as good as the previous model, but atleast did the job for awhile. Has always been alot louder than previous model, also. Now it barely trickles out water. Has not worked properly for a few months, slowly getting worse and worse. Now it is a waste of time and water, as it no longer does the job. Waste of money. Please go back to your original design. That one lasted a few years and was great! Do not recommend buying this item.