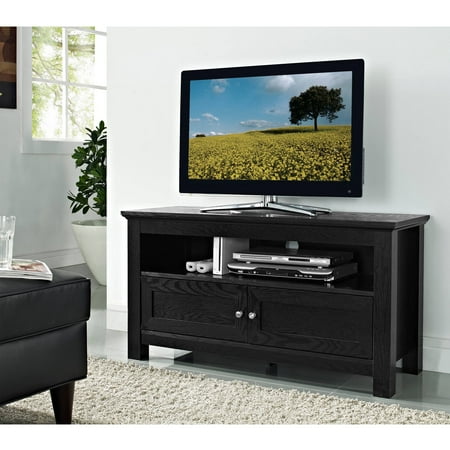 The Walker Edison TV stand makes a beautiful and functional addition to living rooms, bedrooms, dens and more. Its charming style features a rich, textured dark brown finish. This contemporary TV stand is constructed from high-grade engineered wood to provide long-lasting durability. It can accommodate most TVs that measure 48″ or smaller and weigh up to 250 lbs. The stand provides wide, open storage space for holding entertainment equipment like DVD players, cable boxes and game systems. It also has a concealed area that you can use to organize movies, games and other accessories. Update your home entertainment setup with the Walker Edison TV stand. Walker Edison TV Stand for TVs up to 48″, Multiple Colors:
TV stand fits most TVs up to 48″ up to 250 lbs
Contemporary style
Open and concealed storage space
Made of high-grade engineered wood
Rich, textured laminate finish
Add a stylish contemporary look to your home entertainment setup
Sort and display your media equipment, movies and accessories
Assembly required (instructions included)
Dimensions: 44″W x 16″D x 24″H
Weight: 65 lbs
Televisions sold separately.
reviews
My last TV stand started to bend at the top because it was simply not sturdy enough, but I don't see this being an issue with this one! It is VERY sturdy/heavy, relatively easy to build (might recommend two, but I did it just fine by myself), and looks very attractive in my apartment living room. My TV is 43″ so I wouldn't go any bigger than that for this stand.
Would purchase from here again! Very easy instructions, but somewhat time consuming. Took approximately 2.5-3 hours to construct. Product looks great! Exactly what I expected.
I ordered this online. Was worried about it being a cheap piece of furniture. I was very surprised to find how sturdy it was, and it doesn't look cheap at all. I put it together myself, which was a bit difficult. Took me longer than expected, but probably would've went much faster if my husband was home. Very happy with my purchase.
This was an easy to put together shelf and looks very nice! I will say that you will want two people to put it together just to make things go more smoothly!
Although it took 3 hours to assemble, the directions were adequate and it looked nice when complete. Unfortunately, the top of the unit had 2 flaws. We have contacted the manufacturer and hope to get a replacement. It was a good buy for the money, though.
I wanted to give this a 5 but can't, for two reasons. The doors are slightly mis-aligned (no adjustment) and I NEVER give anything full marks. The mis-alignment is slight and hardly noticeabler and otherwise, the table is great so I highly recommend it. It looks great in our living room, remarkably high-end.
Do not buy this TV stand! It was missing one of the shelves, and when I contacted the company, they didn't care at all and they did not have a replacement shelf. So my husband and I had to return it to Walmart. It was really a piece of junk. Don't waste your time!