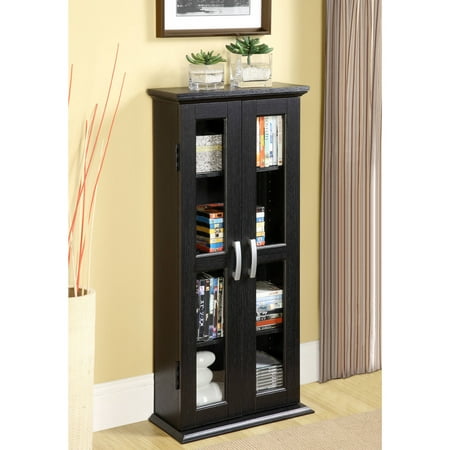 Perfect for your bedroom, living room, game room, home office, this multi-functional media tower provides ample storage to house your favorite DVDs, CDs, games, books, media and more. Features two adjustable shelves crafted from high-grade MDF with durable laminate finish behind two double doors with tempered safety glass panes to fit your home decor.
Walker Edison 41″ Wood Media Cabinet, Multiple Colors:
Stylish, sturdy design
Rich textured finish
High-grade MDF with durable laminate
Holds approximately 100 DVDs
Adjustable shelving
Double doors with glass panes
Ships ready-to-assemble with step-by-step instructions
Dimensions: 18″W x 8″D x 41″H
Weight: 33 lbs
Model# DT41ES
Televisions sold separately.
reviews
It's saving an enormous amount of space in my livingroom going towards the hallway, with just enough room for all my cd's & dvd's. It's also very rich looking. Thank you for another fine product.
Small and attractive, this unit was easy to assemble and takes up very little space. I'm very pleased with this purchase.
Good quality cabinet. Easy to put together. A little small, but it's a media cabinet. I used it for a knick-knack cabinet. Definitely need to use the tether to tie it to the wall as it seems it would tip over easily. Nice quality and I'm happy with my purchase.
I needed a small cabinet in a small bathroom for storage. I went to Lowes and purchased "feet" painted them black and added to bottom of media tower. Also from Walmart I purchased colored mini storage bins, which fit perfect inside for holding make up and other bathroom toiletries. Works great and looks good as well!
I bought this to hold and display sport figure bobbleheads and it works perfect. Each shelf holds 4 bobbleheads. While I wish there a wider piece of glass in the doors, I still love the end result.
Not to tall and really packaged well and really simple to put togther
this item might have looked good in advertisement, but I will never again buy an item that requires so much work and tools to put together. I recommend purchasing this kind of item at a store where it is already put together. for the same reason I purchased a jewelry cabinet at a place where it was finished. I now know that seeing an item on Walmart online means you are paying the same price as you would at top brand department store without having to physically put low quality components together yourself.