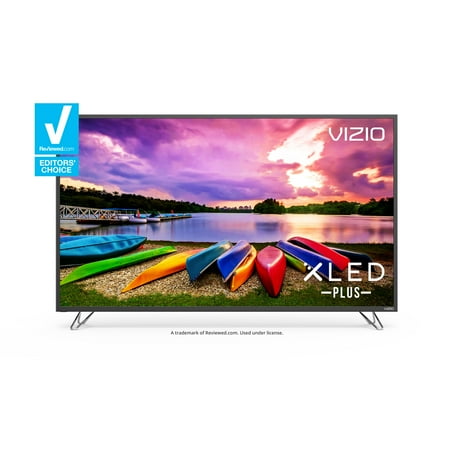 VIZIOs SmartCast M-Series displays introduce the next level of extraordinary. This 55-inch XLED Plus Display with premium picture and performance enhancements makes the M-Series a smart choice for anyone wanting to view movies, games, and sports with breathtaking clarity. VIZIOs 4K Ultra HD picture allows you to enjoy it all in striking color and contrast. This M-Series displays quad-core GPU and CPU gives you blazing fast 8-core performance and faster, smoother onscreen graphics with low latency. Stream, view, and game experiencing amazing picture quality in every one of the 8 million pixels and 4x the resolution of Full HD (1080p). Experience extraordinary color depth and range with exclusive Dolby Vision HDR + in remarkably sharp 4K Ultra HD. Powered by VIZIOs high-performance XLED Plus with full-array local dimming backlight technology, 2017 M-Series smart displays dramatically enhance the picture with astonishing brightness and color with strikingly deep blacks not available on other displays. With Dolby Vision and HDR10 content support, XHDR Plus enables a wider range of contrast, revealing details often lost in the shadows and highlights. This home theater display is thin and sleekly designed, so you can mount or set it anywhere in the house. VIZIOs Ultra Color Spectrum and Xtreme Black Engine Plus will display all your favorites like youve never seen them before. Ultra Color Spectrum renders over 1 billion colors in rich, vivid detail, so youll experience movies or nature documentaries like youre seeing them first hand. With the superior light uniformity and picture performance of Full Array LED youll feel like you have the best seat in the house for every game! Xtreme Black Engine Plus uses 32 local dimming zones to dynamically adapt brightness to the on-screen image for strikingly deep black levels that make players stand out clearly against the playing field so you wont miss the details of a single home run or goal. If you enjoy gaming, the M-Series display puts you right into the action with Clear Action 360 refresh rate technology. At 120Hz, this display can tackle fast-paced movies, sports, and video games with minimum motion blur. Why not have a display that can handle your 4K rigs power? Leave the lag behind! Every M-Series display features Chromecast built-in, the easiest way to stream your entertainment from thousands of smart tv apps you love to the big screen. Stream in 4K and HDR from OTT video apps like YouTube and Netflix. Just tap the Cast button in Chromecast-enabled apps on your device and watch, with no HDMI or USB inputs required! Experience intuitive control with VIZIOs SmartCast app, installed on every M-Series display. Right out of the box, youll have over a thousand movie, television, and music options to stream directly to the display! VIZIO SmartCast works with Google Assistant on devices like Google Home giving you voice control over your enabled devices. Stream Netflix, YouTube, and more with ease. Play, pause or turn up the volume without lifting a finger. This M-Series model comes with four UHD-Ready HDMI Ports to connect cable and satellite receivers, Blu-ray players, and game consoles. It also includes an Ethernet port and USB port for displaying photo, video, or music files. VIZIO automatically provides our customers with free and ongoing firmware updates to their Smart TVs and displays to further enhance the ownership experience, when available.About VIZIO: Headquartered in Irvine, California, VIZIO is among Americas leading HDTV and sound bar brands, with award-winning US based customer service. VIZIOs mission is to deliver high performance, relevant, smarter products with the latest innovations and updates at a significant savings to our customers. Our loyal following and industry-wide praise continues to grow as we redefine what it means to be smart.
           55 4K UHD Home Theater Display with Xtreme Black Engine, Clear Action 360, and Chromecast built-in
         Loaded with VIZIO SmartCast for pairing with a phone or tablet to stream thousands of programs using popular Smart TV apps like Netflix, YouTube, or VUDU
         UHD/4K display with Smart TV functionalities and Chromecast built in
         VIZIO Clear Action 360 for the best 4K display for gaming and streaming
         Stunning, affordable 4K display
         Wifi enabled large screen display supports all your HDMI devices
reviews
Purchased additional remote with direct access to Netflix and Amazon apps, which made all the difference for my wife.
this was a replacement for another 55″ (M55ID-A-2 )which died due to lightning strike. 1st replacement was a bummer could not connect to WIFI,would turn set off and it would turn it's self back on.VISIO replaced it and replacement is working well .Bigest complaint is no free air capability, that sucks your stuck with Direct TV or Cable or buy TV Tuner. This fact is hidden in the ads. VIZIO tech support is the greatest very helpful .
The legs are way too far apart. I had to add a wooden top to accommodate the width of the legs. My last 55inch had a central base that was easily accommodated by the TV stand
A nice 4K TV that doesn't break the bank. The picture is gorgeous and it was super simple to set up. Only remote down side is the feet are on each end if you don't wall mount, so make sure you have a wide TV stand
Bought this TV a couple months ago, and so far, nothing negative to say about it.
I am really happy with this TV, great features and great picture. Easy set up.
Have had the TV for a couple of months and we are very happy with it. A great value for the money.
Had a 46″ vizio, it was/is a great tv, upgraded to the 55″ and the picture quality and features are amazing
I have had this TV for about a month. I hate it and truly wish I hadn't bought a Vizio this time around. The tv has some major flaws. First, it has no apps built in. It relies on casting from a phone or other device to stream. This wouldn't be a problem except that the casting function is buggy and I end up restarting the streaming app and the Vizio app on my phone to get it to work about half the time. It is annoying to the point that I will probably just buy a firestick to plug into the tv instead of using the cast function. Next, every time the tv is on and there is a power flicker or power failure, I have to do a complete set-up on the tv just like it's brand new out of the box. Lastly, on the third day I had the tv, the picture suddenly went VERY saturated with red. I tried everything in my power with the picture settings to no avail. I finally factory reset the tv to fix it. That meant I had to go through 15 minutes of set-up, yet again. What a complete disappointment and waste of money!