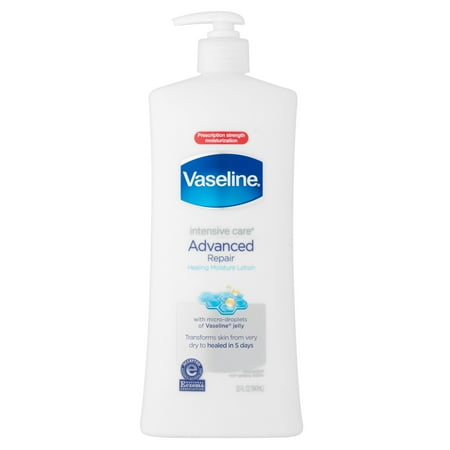 Advanced Repair Unscented Healing Moisture Lotion
We believe healthy skin starts with deep healing moisture. It all started with a wonder jelly that we've been perfecting for 140 years.
Today we have micro-droplets of Vaseline jelly in our Advanced Repair Healing Lotion which absorbs deeply into your dry skin and moisturizes to heal it from within.
Advanced Repair
Clinically proven to heal dry skin in 5 days
Moisturizes to relieve even stubborn very dry patches
Absorbs fast for a non-greasy feel Vaseline Intensive Care Advanced Repair Unscented Lotion:
Prescription strength moisturization and its unscented formula makes it a suitable lotion for dry, itchy skin
Vaseline Intensive Care Advanced Repair Unscented Lotion provides fast-healing moisture for dry, itchy skin
Micro-droplets of Vaseline Jelly lock in moisture to relieve even stubborn dry skin
Absorbs fast for a non-greasy feel
Awarded the National Eczema Seal of Acceptance
Products also available from the Vaseline Intensive Care Lotions range include, Aloe Soothe, Essential Healing, and Cocoa Radiant
Indications
:
Health Concern: Dryness
Skin Care Concern: Dryness
Ingredients
:
Ingredients: Water, Glycerin, Petrolatum, Stearic Acid, Glycol Stearate, Dimethicone, Isopropyl Isostearate, Tapioca Starch, Cetyl Alcohol, Glyceryl Stearate, Magnesium Aluminum Silicate, Stearamide AMP, Carbomer, Ethylene Brassylate, Triethanolamine, Disodium Edta, Phenoxyethanol, Methylparaben, Propylparaben, Titanium Dioxide.
reviews
I have been using this lotion for over 10 years. I have tried numerous lotions and always go back to this one. Its the only lotion that completely heals my skin. It works great on legs after shaving, especially rite out of the shower. Nothing compares, not even the high dollor moisturizers.
This is the only lotion my husband and I use. With diabetes we both have very dry skin.
This product wow. I had a very dry skin n started using this product last week n m healed like completly healed yhoo. Thank you vaseline
I get dry scaly patches on the back of my arms. I had never found anything that would work until I tried the Vaseline Intensive Care lotion. It honestly worked (it says in 5 days), but my experience was closer to 4 days. I apply after my morning shower and at night if I remember to do it – but not often). Dry scaly patch is GONE!! I can't believe how well this works!!!  I NEVER write an unsolicited review, but I wanted other people to know that this product honestly works!!  No hype – it just works!!! Try it!  You will not be disappointed!!!
The hand cream I selected fit my purpose which is under the kitchen sink. My hands need frequent moisturizing especially after working in water–with or without gloves. This cream fits and is used several times daily.
Deeply disappointed with the formula change. Compared to what it used to be, this alteration feels less moisturizing and more irritating–the texture is thinner (somewhat watery) and doesn't absorb well for me. I also detected a light scent as well, and sure enough it contains cedrol, which sole purpose is to impart scent. The old formula was the only lotion I used for years. I tried many, MANY other brands before discovering Vaseline's Intensive Rescue. Loved everything about it. It kept winter itch and dryness at bay, I SWEAR it preserved my skin and made it healthy, soft, and "younger" (always got compliments on my "soft hands"), and MOST importantly, it was the ONLY lotion I could apply immediately after shaving without causing irritation (I'm not exaggerating when I say EVERY other lotion I try, results in irritation). Since the formula modification, I switched to buying the Target off-brand version because the formulation remained untouched. However, I'm afraid this has changed over as well now, so my search for a new favorite lotion begins. A suggestion/word of advice to Vaseline—consider creating another product line instead of changing formulas. And PLEASE bring the old formula back! I'd be a happy and loyal customer for life.