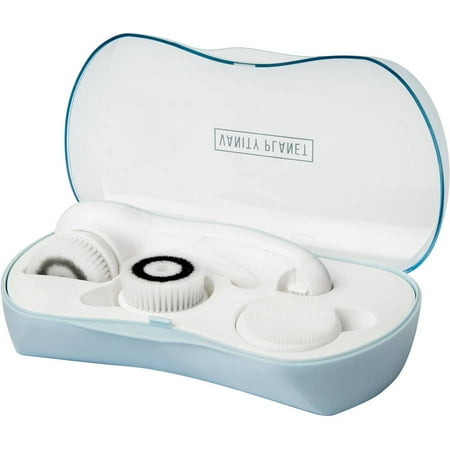 Get your face clean and fresh feeling every day with a Vanity Planet Ultimate Skin Spa System. It is designed to invigorate over time to produce a smooth, clear complexion. The Vanity Planet spa system includes three changeable heads, the cleansing, exfoliating and silicone brushes. It will work to remove dirt, oils and any debris that has been trapped deep inside your pores over time to refresh your skin. An ultimate spa system can be used in the tub and shower as it is water resistant, so it will be easy to include in your day. It comes with storage that allows you to take it with you on any travels so you won't have to skip any days. The Vanity Planet ultimate skin spa system features a curved handle for comfortable holding and requires two AA batteries to run.

Vanity Planet Ultimate Skin Spa System:
Cleans and invigorates your skin to reveal a smooth complexion
Lifts dirt, oils, and debris trapped deep in pores
Includes Cleansing, Exfoliating and Silicone brush heads
Water resistant and safe for use in tub or shower
Includes storage case that's perfect for travel
Requires 2 AA batteries (not included)
Easy to use, micro-massaging device
Button under head to turn on/off
Curved handle for comfort holding Vanity Planet Spa System
Available in white and clear with light blue
reviews
The product is excellent! Beautiful case and it really works on your face!
The product was ok, I felt like it was working in my skin. But in reality my skin is doing better now that I don't use it as often or in some way discontinued it. The products look exactly as they do on the website and package. I tried it because a lot of great YouTubes with great skin used this but, it didn't work for me. Not dramatically. Maybe it takes more time with use. But I really don't think I need this product unless I'm taking of some mask that is hard to remove. But maybe it will work for you. It's a cool product, you can try at your own leisure.
great product!!!!!