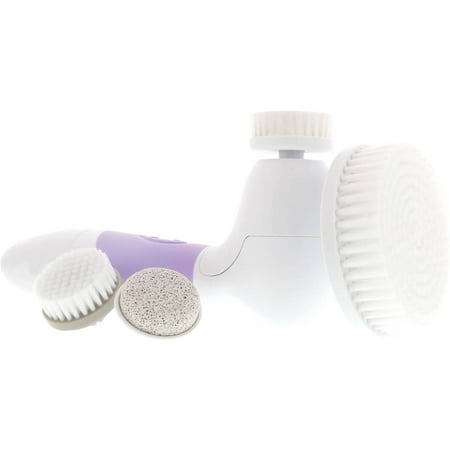 Start your day with a radiant, healthy look using the Vanity Planet Spin for Perfect Skin Face and Body Brush. It comes with everything you need to customize your head to toe cleansing experience. A powerful and safe rotary action spins the head to lift away unwanted debris for fresh and flawless looking skin. It comes with a water-resistant handle, a face scrub brush, an exfoliating brush, a body brush and a pumice stone. With use, it effectively removes dead skin cells while promoting cellular rejuvenation. It also removes bacteria and reduces pore size for a smoother, brighter look. This skin cleaning brush is easy to use and is safe for all skin types.

Vanity Planet Spin for Perfect Skin Face and Body Brush:
Cleanses and exfoliates to reveal radiant skin
Removes bacteria to promote visibly clearer skin
Reduces pore size so skin appears smoother and brighter
Includes 4 unique attachment heads so you can customize your cleansing experience
Skin cleansing brush is intended for shower and dry operation
Requires 4 AA batteries (not included)
Versatile tool designed to keep skin looking fresh and flawless
Powerful and safe rotary action spins the head of the device to lift away unwanted debris
Banishes blemishes
Face scrub brush comes in black, blue, green, grey, pink and purple
reviews
I really love the way my skin looks and feels after using this cleanser. I love that this comes with different brush heads to give you more options. This also comes in a really cute box so it would make a great gift. I definitely recommend this product.
Good product, works well for the short time we have had it.
I use the cleansing brush every night, and it's been working pretty good! The exfoliating brush is a little rougher and it doesn't feel good on my skin. The body brush also works well. The pumice stone works pretty good but I think a regular pumice stone you purchase works better.