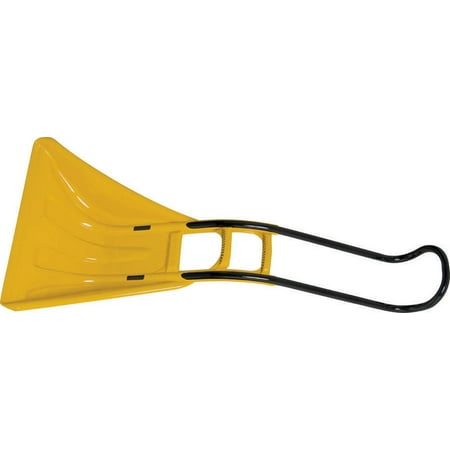 The TRUE TEMPER SnoBoss 26″ Shovel is built to endure even the most extreme conditions and temperatures. It's made with high-quality resins and a high-capacity blade with steel wear strips. This durable construction allows for easy removal of more snow in less time. The lightweight shovel includes two grips so you can position your hands comfortably. Together, the blade and handle provide optimal design integrity without screws, nuts, rivets or sharp edges. This item is also reversible for ultimate convenience. Simply turn it over, and it's ideal for scraping tight areas, such as steps and porches. Whether you're shoveling after a light snowfall or a blizzard with heavy slush, you'll find that the TRUE TEMPER snow shovel gets the job done. 
TRUE TEMPER SnoBoss 26″ Shovel:
Aluminum handle is lightweight but highly durable
Two grips allow for optimal hand placement and ergonomic shoveling
Footstep provides necessary leverage for heavier loads
TRUE TEMPER snow shovel is 50 percent lighter than a sleigh shovel
Provides a comfortable handle for greater control
Allows you to remove snow in walkways, driveways and small paths more efficiently
Helps prevent standing in uncomfortable positions while shoveling
Warnings:
California Proposition 65 Warning: WARNING: This product contains chemicals known to the State of California to cause cancer andbirth defects or other reproductive harm.
reviews
Great shovels- very durable. Quick shipping and can't beat the price! #sweepstakes
I love this shovel. The leverage the grips provide help a lot. Most of the time I can just push the snow to where I want it, and it does this much better than the standard shovel I was using. Last week we got a much heavier amount, and the berm caused by the plow was a real pain. I would grab a big bite, and then just drag it down the road a bit to where the berm wasn't so high, then toss it over. Ihe shovel's light weight helps!
My driveway usually takes me about an hour to shovel and I am always wore out by the time I am done. I shoveled 6 inches of snow off my driveway with this shovel in about 20 minutes and did not even break a sweat.
Purchased one a year or two ago from a local hardware store for a higher price. When the topic of snow shoveling comes up at work, I never fail to mention this shovel as being great at handling light snow. Clears a wide path, reducing the amount of time I spend shoveling. Loved it so much, that when I saw the great price at Sam's, I purchased one as a gift. Can't say enough about this shovel.
I used this shovel for less than an hour until the rivets wore off and the metal blade part of the shovel got bent and useless…. I believe its a poor design with rivets that rub against the concrete are able to wear our very quickly…. I bought 4 of these for myself and friends because I thought they would be fantastic…. All 4 I bought did the same thing in a matter if weeks..
Snow Removal Tool / Brand : True Temper / Head Width : 26 in. / Head Length : 21 in. / Handle Length : 21 in. / Product Length : 56-1/4 in. / Head Material : Poly / Telescoping Handle : No / Handle Ma...