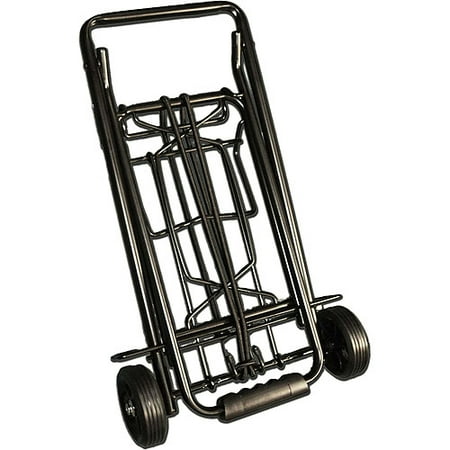 Carry your luggage with ease when you use the TravelKart metal luggage cart. This product is both durable and lightweight, and lets you travel with heavy carry-on or bulky items with ease. This metal cart can support up to 75 pounds. You can even use it at home. When you are finished, this cart folds up and away for simple storage.
TravelKart Metal Luggage Cart, Black:
Durable and lightweight
Black folding luggage cart
Supports up to 75 lbs
Folds for easy storage
For use at home or while you travel.
Directions
:
Fabric Care Instructions: Wipe clean.
reviews
It was perfect for attaching our elderly mother's clothes hamper to it. She can wheel it over to the laundry area and do laundry on her own. It helps her feel independent.
We got this to bring soda on our cruise and it easily holds 2 12 packs with room on top for our carry-on bag.
The item is quite sturdy and very good for its price. Not a bad purchase.
Really handy carts….one for general stuff and one I keep loaded with a basket of tennis balls to wheel out to our condo tennis court.
This cart is lightweight, yet very sturdy for transporting what I purchased it for. I love the grooved handle that fits my hand well and the larger wheels that make it roll very smoothly. I'm very impressed with the quality of this item at such an affordable price.
This cart was so handy and a bargain. Folds up to fit in tight spaces and easily rolls my ice chest or traveling extras. Great for smaller ice chests that are not on wheels.
Easy to fold up when not in use! Works great for helping move my items for my direct sales business to vendor and show events!!!!
The TravelKart Metal Luggage Cart that I purchased has been a great help to me. As I walk with a cane, the Cart permits me to transport my briefcase and lunch box with ease. The wheels move smoothly and the frame is sturdy. It also collapses into a flat configuration, which fits well in the trunk of my car. I highly recommend this product.
This is a great little cart for me to use in my business. I got it on time and it was exactly what I thought it was going to be. The price was fair, but it has gone down in price since I purchased it. I would have purchased it later if I would have known this.
Very easy to maneuver. I do find it difficult to use the bungee cords. There are not enough places to hook them up. If you hook them to the back then the handle doesn't stand up straight. I also had to add a bungee cord around The middle to keep things from sliding off the side. Other than that, it has worked great.
A portion of the frame came apart very soon after purchase. I managed to rig it so I could still use this cart but was extremely irritated that it was so cheaply constructed. Also, one of the side wings that fold out came out of it's hole in the frame. That was tucked back into it's proper place but had I not noticed it, the entire side wing would've disappeared. Next time I purchase a cart (and because of the shoddy manufacture there will have to be a 'next time', I will buy the more expensive model. It's not worth it to be cheap in this purchase.
TravelKart Metal Luggage Cart, Black: Durable and lightweightBlack folding luggage cartSupports up to 75 lbsFolds for easy storageFor use at home or while you travel.