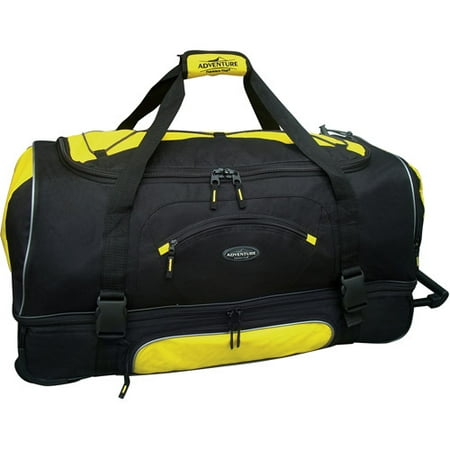 Travelers Club 30″ Drop-Bottom Rolling Duffel with Telescopic Handle. Features a separate bottom section, two front pockets, easy glide in-line skate wheels and top carry handle. Ideal for long trips, dorms or camp. Meets most ariline check-in requirements.
600 denier polyester
In-line skate wheels
Unique front wet and shoe pocket
Roomy bottom section for heavier items
Security buckles in front
Meets most airline check-in requirements
Dimensions: 30″L x 13″W x 13.5″H
Warnings:
California Proposition 65 Warning: This product may contain chemicals known to the State of California to cause cancer andbirth defects or other reproductive harm.
reviews
Very easy to carry it is comfortable
Good product for the price
This bag is good for traveling because of easy packaging and lots of room. This bag is worth the money that I spent. I would recommend this bag for everyone that travels who don't want to carry a six piece luggage set. Jeff
I never got a chance to use the bag, as when I received it out of the box, it had black marks on the top part. So I had to return it, however I do plan to give it another order try.
I had the 33″ bag. It finally took its last trip with me. It has lasted many trips with me for domestic and international trips. The vicryl for the handle gave out first. They should have put a better vicryl pad or a bigger one for larger gripping surface. The next to break was the wheel support board.It caused the wheel on each side to warp so the bottom scraped the floor. As a result the covering between the wheels burned off from the scraping. Next to go was the floor board for the luggage. Now the bag sagging the middle when I try to wheel it upright. I am finally getting a replacement unfortunately I got the 30″ rather than the 30″. I would buy this again.
Roomy and light good for traveler like me. The only thing should have are first there's no handle on the bottom side and second need clothes strap on the bottom compartment.
I had hoped this would be a good inexpensive solution for weekend trips but on arrival it is regrettably very cheap and I would have probably benefited by readying some reviews. I will most likely need to buy something else and which in the long run will be more expensive since I don't think this is returnable to a store. In hindsight, spend more and probably go to a store so you can see what you are buying ahead of time.
Travelers Club X-Large 36" Drop-Bottom Rolling Duffel with Telescopic Handle: Material content: 1,200 denier polyesterIn-line skate wheelsUnique front wet and shoe pocketRoomy bottom section for heavi...