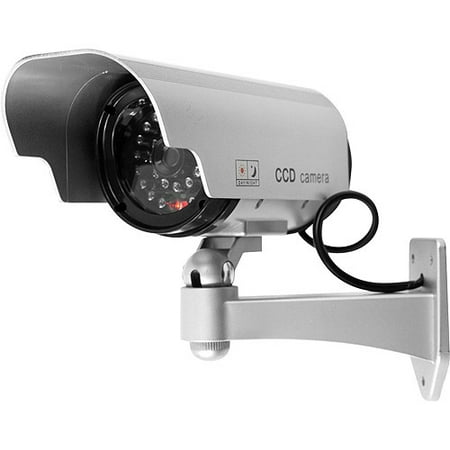 Deter criminals by installing this Trademark LED Security Camera at your home or business. They will be convinced that the area is electronically monitored and will search for an easier target. It features an LED light that gives the impression of working surveillance equipment. No wiring is needed because it is not a functioning device. Simply install it with the included installation screws and turn it on when you are ready to leave. This office security camera with adjustable mount features an adjustable base that lets you set the angle to achieve the most convincing effect. This item is an easy, cost-effective way to help protect your property.
Trademark Security Camera Decoy with Blinking LED and Adjustable Mount:
LED light
No wiring needed
Installation screws included
Adjustable base allows you to set angle of the camera
Home security camera is not a functioning camera
Realistic appearance when mounted
Requires 2 AAA batteries (not included)
Measures: 7.5″ x 3.25″ x 6.25″
Reviews
looks like the real thing….. definitely a deterrent. You can't go wrong for a decoy. Just make sure you mount it underneath something out of the weather.
This product is all that it says it is and more.
Just what I wanted. From a distance, the appearance is perfect. Only upon very close inspection, could it be assumed fake. Thanks. The peace of mind is comforting, and at a very reasonable price. I bought 4 of them, and plan on installing them today!
This fake camera looks very real. The led light that flashes really looks like it's recording. The fake wiring is long enough to put behind your siding or whatever your hanging it on, so it really looks like the wire is running to a source. Overall great fake camera for the price.
Very realistic looking. Works great for what I need it for.
I don't know how long batteries last yet, but I am impressed.
It works great and people ask me how I have it hooked up and I tell them that it works great for what I use it for. I DO NOT tell them that it is FAKE. What they do not know will not hart them.