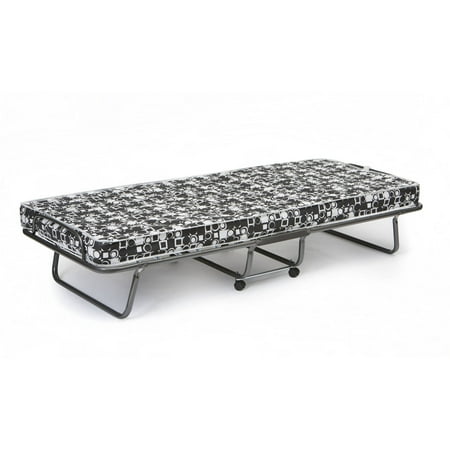 The InnerSpace Torino Folding Roll Away Guest Bed features a firm comfort mattress composed of high density polyurethane foam. The twin-size bed is composed of a steel flexible mesh base for optimal support. The portable InnerSpace Torino Folding Roll Away Guest Bed easily converts any room into a sleeping space. The caster wheels make the bed easy to maneuver. The stylish guest bed has a modern black and white mattress cover that is durable and stain-resistant. The bed folds into a compact 33″ L x 13.5″ W x 42″ H. The guest bed folds up easily with a simple locking mechanism to store away until you have new company.
Torino Folding Bed Rollaway Twin Guest, Black and White:
Convenient roll away bed for unexpected guests
4″ thick high-density polyurethane foam mattress
Stain-resistant polyester mattress cover
Steel bedframe
Steel mesh support
Folds easily with lock for storage
Mattress dimensions: 72″ L x 31″ W x 4″ H
Bed frame dimensions: 74″ L x 32″ W x 15″ H
Residential use only
Made in Italy
1-year limited manufacturer warranty
reviews
My husband tried it and said it was comfortable.
is the bed i was looking for long time ago
VERY GOOD FOR MY NEEDS.JUST NEEDED EXTRA BED FOR NEPHEW WHEN HE COMES TO VISIT BUT DIDN'T REALLY NEED ONE SET UP PERMANENTLY!! JUST RIGHT FOR THE PRICE AND SPACE NEEDED!!VERY THANKFUL!!
Would not recommend for heavy adults but great for guest that are lean and children. Stores away quickly.
I ordered this for my sister while she is waiting for her larger bed to arrive. She says this is a very comfortable bed. I will also order one for myself for when guest stay over. Great bed and the price can't be beat.
If I would have seen this in the store I would not have purchased it. It is very low to the ground, like an army cot, and the mattress is very cheap. The entire thing is very cheaply made and not worth the price in my opinion. I had to keep it because I needed it for a guest, who said that it was very hard to get in and out of and not very comfortable. Definitely not worth the price. I'm very disappointed.