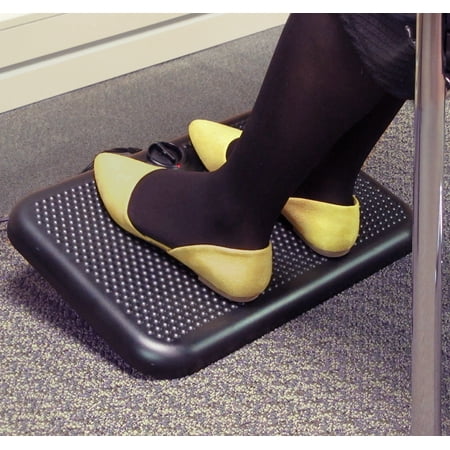 Warm your personal space with the Cozy Products Compact Heater. It comes with three adjustable positions to accommodate sitting and standing positions. It gently warms cold feet and legs to give you comfort and relief. It also helps improve circulation and blood flow. Combine this Toasty Toes footrest space heater with an optional fleece foot cover (sold separately) for maximum warmth and coziness. It is ideal for use at home or the office. The energy-efficient design of this product uses just 90W of power, which is 95 percent less energy than typical units on the market, helping you save money and energy.
Toasty Toes Footrest Space Heater:
Combines an ergonomic footrest with a money-saving 90W heater
3 adjustable positions to accommodate sitting and standing
Energy-efficient design of the Toasty Toes heater saves money, energy and keeps spaces warm
LED indicator displays on/off and 2 heat settings
Improves circulation and blood flow
Optional Toasty Toes fleece foot cover sold separately
Uses radiant heat to warm your personal space, including cold feet and legs
Provides comfort and relief
Uses 95% less energy than typical space heaters
Toasty Toes footrest space heater is ideal for use at home or office
Warnings:
California Proposition 65 Warning: WARNING: This product contains chemicals known to the State of California to cause cancer and/or birth defects or other reproductive harm
reviews
This footrest was reasonably priced–less than the price at other retailers. It has solved the problem of an office space with no insulation under the floor. My feet are comfortably warmed–even with my shoes. And, delivery was faster than estimated! NO complaints about waiting for the purchase to arrive.
I would recommend this as a foot warmer but not really as a foot rest. The foot rest part is very flimsy so I have it sitting directly on the floor. I've only had it a few weeks, but so far it still works great for what I needed. I would've rated it lower if I needed the foot rest part as well.
Works very well, too hot on high when no shoes, just right on medium.
I am giving this 4 stars because the footrest raiser part is more or less useless it slides off, it appears to be due to poor design and not a broken item. I suppose it could be glued in place with an epoxy but I have just laid it flat on the floor no big deal. Aside from that glitch it's great and keeps my feet super warm!
This heater is just what I needed to warm my feet under my desk. If you don't like the heat directly on your feet then just stand the heater on end and heat the area under the desk. I also needed the foot rest so form me this was a perfect solution. I normally use a small space heater in my office during cold weather, but with tile floors and the fact that there is only a crawl space underneath my desk area, my feet would still be cold. This solves the problem for me and I won't even need the space heater unless it is really, really cold outside!
I've only used it for 3 days but it really keeps my feet warm under my desk and I plan on getting another one for the house.
I spotted the heated footrest accidently while searching the Sam's Club site. I thought it might be good becasue where I work it is always cold at floor level due to people opening outside doors that let's the cold air in. I ordered and set up the foot reast and I have had warm feet since then. I think this is was a very good purchase especially since it does not draw so much elelctricity. The only thing I think is it should have two setting on the footrest and low and high. Currently it has the footreast and when stood up erect heat panel. This would make it just a bit better. Otherwise I think it is a great addition to the underside of my desk.
It gets to 115 degrees Fahrenheit on the lowest setting! It will definitely keep you warm for less, I just wish they made something for the hands.
Cozy Products TT Toasty Toes personal Heater Footrest