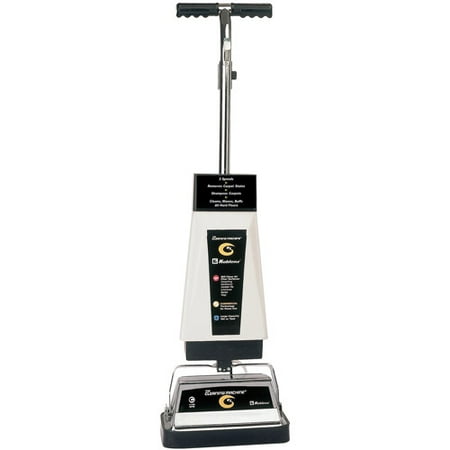 The Koblenz Cleaning Machine Floor Shampooer/Polisher (00-2079-2) is exclusively designed to clean rugs, carpets and hard floors. It scrubs, polishes, waxes and shampoos all kinds of surfaces with professional results and little effort. With an all-metal construction, the hard floor cleaning machine in chrome/black offers durable performance. Featuring a powerful 4.2-amp motor and full-width bronze gears, the polisher delivers outstanding performance. It features a rugged T-bar grip design for superior cleaning performance. For added functionality, this hard floor cleaner comes with twin brushes, two cleaning speeds, one pair of shampoo brushes, one pair of green scrubbing pads, one pair of tan polishing pads and one pair of lambs wool buffing pads. You don't have to make do with only picking up the dry debris from your rug when you vacuum it and only get it deeply washed when you pay to have it professionally cleaned. Now, shampoo and polish as often as you like, with about the same amount of effort that you would spend vacuuming Now, shampoo and polish as often as you like, with about the same amount of effort that you would spend vacuuming.

Koblenz Cleaning Machine Floor Shampooer/Polisher, Chromed/Black, 00-2079-2:
Designed for carpets, rugs and hard floors
Powerful 4.2-amp motor
18′ line cord
Rugged T-bar grip design
2 cleaning speeds
Twin brushes provide stability and superior cleaning
Rugged twin-ball roller construction
12″ cleaning width
Chrome/black hard floor cleaning machine
Accessories/attachments included:
1 pair of scrubbing brushes
1 pair of shampoo brushes
1 pair of green scrubbing pads
1 pair of tan polishing pads
1 pair of lambswool buffing pads
144-ounce tank capacity
Polished aluminum die-cast housing
All-metal construction
Bronze gears for extra-long life
Model# 00-2079-2 (P-2600)
Directions
:
Fabric Care Instructions: Follow instructions provided on the tag or packaging.
reviews
This is the type of machine that we have used over the years. Not expensive and is multi purpose, does the job on many surfaces. Cleans carpeting, wood and vinyl floors etc.
Just received it yesterday but was waiting for it to come so I could use it. I put it together took about 20 mins. was no big deal. I had to make a very slight adjustment to the hook that lifts the lever to release the shampoo/soap/water from the tank. I did not use the tank yesterday however. I used resolve shampoo spray and scrubbed the rug with the machine. worked well. all parts were present. it's a great scrubber but I will also be purchasing a steam cleaner in the future for those days you know it needs a little more.
This machine works great. It is very easy to control and is the easiest way possible to clean our tile floors. The only problem we had is the scrubbing pads wore out quickly. But the brushes do an excellent job so the scrubbing pads were not necessary.
This is a great machine. I used it for cleaning tile and shampooing carpet. The only thing I would change is the cleaning pads. They are not thick enough.
Bought this to strip clean and buff my glazed ceramic tile flooring. The previous homeowner had used wax which built up and the tile looked awful! (You should not wax glazed ceramic tile). The scrubber did an awesome job of removing all the wax, dirt, grime and even cleaned the grout! After mopping the floor with hot water two times the glaze (or baked in shine) started to come back. Used the buffer to buff the tile and it looks super! The only drawback to buffering is that you have to lean down in order to have the buffer work well (balanced), but… if you do it in 5 minute intervals then it won't be so hard on your back to bend down a bit. I'm including a picture of the finished floor with this review. The assembly instructions were scant and so are the user instructions, but a little common sense can figure it out.
The output of the shampoo liquid was minimal to non existent…the clear tube in the back kept kinking and I could not get hardly any of the shampoo to come out and for the most part the carpet remained dry. However when I left the machine standing in my dining room for a couple of hours the remainder of the shampoo in the tank leaked out soaking my dining room carpet. I find it to be more trouble than it is worth..