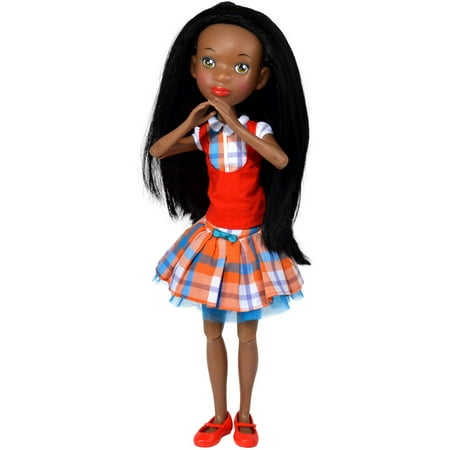 The Prettie Girls are diverse in culture, interests, and style! These hip young girls attend the Dream Academy of Excellence, a school where dreams can come true, so long as you work hard! They come from countries across the globe and no matter what they look like or where they're from, they believe that beauty comes from within. These girls believe that we all live on this planet together and we can all be friends so long as everyone gives their best, respects others and never takes life for granted! Lena is fun, fresh, exciting and has made being smart cool! Her friends call her "The Wiz Kid" because whatever she puts her mind to, she will come out on top! A straight A student, spelling bee champ and top fundraiser on the cheerleading squad, still Lena always finds time to help her friends with their homework and class projects. Setting goals is key; next move: Class President. If there is a Science Fair, you can bet Lena will come home with 1st Place!
The Prettie Girls! Tween Scene Doll, Lena:
Fashion doll
Fully articulated arms, legs, head and waist
Each doll comes with custom background story and personality traits
All dolls have special outfits and accessories
Dolls can stand on their own without a stand or prop
Every doll has unique hair with a natural look
Doll stands 16″ tall
Reviews
Love this doll, very simple but beautiful face and super soft hair. Great articulation and slim size fit a child's hands perfectly. Will definitely be purchasing more Prettie Girls Tween scene dolls!
After reading the blurb online about what these dolls represent, I became a fan of The Prettie Girls Tween Scene dolls and what they stand for. I chose the "Lena" doll for my child because she reminded me of my child- loves school, likes to learn, and is very sociable and an overall friendly person. This doll reminded me of what I want my child to continue to thrive for in life.. Just like Lena, whatever she puts her mind to, she will come out on top! I plan on purchasing the other dolls as well. It is important for girls to have and build self confidence within themselves and seeing these doll helps to confirm that.
Received this beautiful doll through Spark Review and am very pleased with her. She has a beautiful face, pretty silky hair and is pose able. She has a jointed body that is all vinyl. She would make a wonderful gift for a girl.

I got this doll for my 5 year old. Lena is a beautiful, tall, very smart girl. She has beautiful clothes. And even carries around a matching purse. You can also purchase outfits for her. She is much taller then barbie. Her hair is very soft. Her arms and legs bend so you can pose her or make her sit. You also get a poster for your wall. I love that the company who makes these dolls took the time give them a personality and a theme. I chose Lena because she is smart and has ambition. My 5 year old is very smart and is always telling me what she wants to be when she grows up. I would recommend this doll to my family and friends. If the company does not make boys dolls like this, they should start.

Indeed this is a pretty doll. Unlike most dolls, this one has a personality. She has a confident personality. She says she is pretty and she says she is smart. That sounds like somebody that is confident with themself. She even has that smart look. Lena portrays a tween. A tween is someone like my granddaughter, (who Lena belongs to), who is not a little girl and not a teenager. She's between the two which makes her a tween. Lena has a poseable body. Her arms, legs, head and waist, moves. Lena has long, silky hair. She has a plaid skirt with lace under it and a red top with matching shoes. Lena also comes with a blue long sleeve top and a denim purse that actually opens up. Lena also can stand alone. She's about 16 inches tall. Lena also comes with a poster with a big pretty picture of her on it and a web address that you can go to and order additional clothes and accessories for her. I would recommend this for any girl who is transitioning from a little girl to a teen.
My granddaughter just loves her Lena doll. Its a good size and is fully poseable. The clothes are much better construction than other fashion dolls. The hair is very soft and doesn't seem to get knotted up like some other dolls. Its easier to dress and undress and looks more like kids than barbie type dolls. She has a fairly normal body type for a young girl to see. This toy fully surpassed my expectations. Its nice to see a doll on the market that is not a baby, an adult or has loads of makeup. This gives girls a look at more natural way to see themselves. I also enjoyed the packaging and how it said Lena was smart. I fully recommend this doll to young girls. I plan on buying the other dolls in the set so my granddaughter can play with them all.
I think I would fill my grand daughters room with dolls like this that are suppose to teach about different cultures, diversity, and self esteem. Her name is Lena, and the box states " I am prettie because I am smart". That is a cool message, except prettie is spelled wrong. I can live with that, but there is no other story about this girl. The box states the dolls go to the Dream Academy of Excellence, a school where dream come true. They come from countries across the globe, but there is no story about where this doll comes from. The box directs us to log on the a website tweenscenedolls.com. I am thinking this will be where we can get the story of her heritage and where the Academy is located. We can learn how they are awesome and amazing as stated on the box. Well the website is "coming soon". I am really disappointed that I have no story to share about "Lena". Now she is just another doll, but since she looks so unique I made up a fabulous story that made her special to my grand daughter. The doll is recommended for ages 3 and up. She comes with a small poster, a purse, and an extra top. She has long soft hair that we were able to style. Her knees and arms can bend. Her head can be turned around and moves up and down. She can bend at the waist to be in a sitting position. Her clothes are are cute, and well made. Her clothes are removable, and I assume the website will offer clothes that can be purchased. ( I think) I will keep checking back on the website, because I think she should have a story to give her substance, and make her unique.