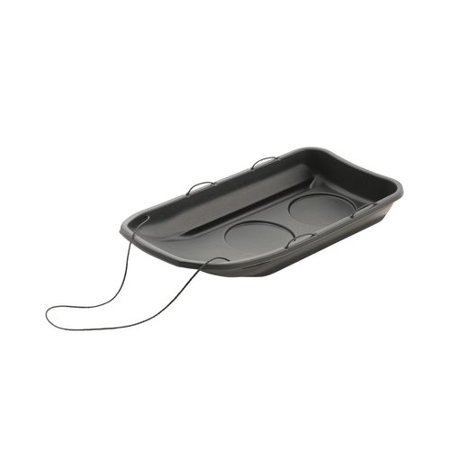 The Terrain Tuff Tote Sled has two 5-gallon bucket recesses and convenient hand-hold locations.
Terrain Tuff Tote Sled, Black:
Two 5 gallon bucket recesses
8 tie-down locations
Convenient hand-hold locations
Model# 90010
reviews
So glad I stumbled upon this item surfing the Walmart site. I forgot I needed it but every farm should have it available for so many reasons.
This is a durable product at a great price.
The sled was very rugged. I am sure it will work well around the mini farm. The packaging could have been much better, it came in some clear plastic wrap, that was pretty roughed up (split), and this item was a gift for my husband, so of course he saw it when I brought it in after being delivered.
This is a sturdy sled that will hold a ton of deeks and looks thick enough to last being dragged over the marsh for a long while.
I'm please with the size and the sturdiness of this sled and it looks as though it will be a big help going back and forth from the woodpile this winter and for winters to come.
I use the Tuff Tote sled to carry my duck hunting decoys in my Cabelas Super Mag Hauler, then float them out in the marsh. Perfect fit for the Mag Hauler, fits nicely into my car.
This sled is everything I wanted it to be. Because it is wide enough I am able to move large rubbermaid tubs with equipment with out tipping. No issues with getting stuck as the graded front enables it to move easily through deep snow. I couldn't ask for a better product. My only comment would be on the price. I feel that it is a bit expensive considering it is made from the same type of plastic most kids sleds are made from only a bit thicker.
Definitely worth the money – I have 2 bad knees and I needed something to haul 75-100# bales of hay out to the horses. Been using kids snow sleds – at $15-20 each. They last 6 mths. to a year and fall apart. THis looks like it hsould last for a while.
I purchased this to make a pulk sled for hauling gear on winter backpacking trips. It is big enough to transport all my gear and I can probably even take a few spins down any close hills to my camp.
Camping Accessory / Brand : Terrain / Outside Material : Polyethylene / Product Height : 6 in. / Product Length : 48 in. / Product Weight : 7 lb. / Product Width : 25 in. / Warranty : 2 Year
Terrain Tuff Tote Sled, Black: Two 5 gallon bucket recesses8 tie-down locationsConvenient hand-hold locationsModel# 90010
Ideal for: ice fishing, hunting, trapping, hauling, and much more