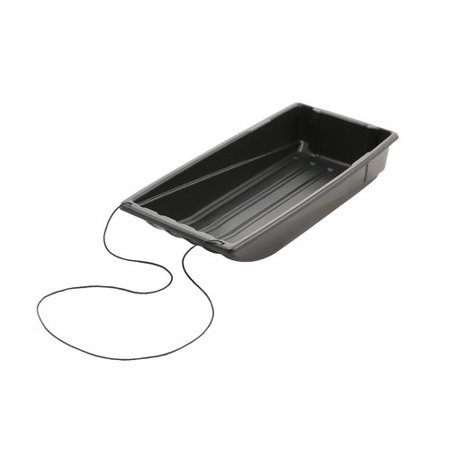 The KL Industries Sport Sled is a heavy-duty vehicle that can assist you with work or play. It is ideal for hauling hunting gear, fishing gear and other outdoor supplies. This KL Industries sled can also be used on hills for fun joy rides. Easy to pull by hand, the sled's ribbed bottom helps with navigating across snow and ice. It also comes with a heavy-duty towrope that comes in handy when it is being towed by snowmobiles, ATVs and other vehicles. Another welcomed feature of this heavy-duty sled is its storage capacity. With almost 120 sq ft of surface area, this sled can hold a variety of items, including a 5-gallon bucket. For durability, the vehicle is made from high-impact polyethylene material that can stand up to the test of time. Even better, the KL Industries Sport Sled's innovative shape allows for an easy conversion into an ice fishing shelter to shield you from the brutal cold, making it an invaluable outdoor accessory.
KL Industries Sport Sled:
Polyethylene construction
Heavy-duty tow rope
Large capacity KL Industries sled
Can be pulled by hand, snowmobile or ATV
Able to convert into ice fishing shelter
Holds 5-gallon bucket
Black heavy-duty sled
2-year warranty
Dimensions: 54″L x 26″W x 9.5″H
reviews
This helps to move a lot of things outside for me and saves my back from carrying heavy stuff and making multiple trips. Like bringing in wood or multiple bags of dog food as well as many other uses. We also use it for our giant breed dogs to take them to vet when they have mobility issues and can't get around well, like a gurney.
Had this sled about a year and it's been great. This fall I'm using it to haul firewood out of the woods, sliding on just leaves. Down hill is no problem and even on the level its OK on just leaves.
The product was great. the price was unbeatable. and the delivery was faster than expected.. I am very Pleased
I use more fire wood in my wood stove for heat then I can store close to my back door so Ineeded a new sled for firewood transport. This sled can hold enough wood to make a trip during the cold of winter worth while. And it seems rugged enough to last for many years.
I bought this sled for ice fishing and it works great. It's a heavy duty sled not a flimsy one. It would work for just about anything.
I needed a sled to haul firewood to the house. This sled fit the bill durable and good capacity, and a great price
Order it in the morning and ready to pick up at local store in minutes. Great and friendly service. Plus lowest price in the city. Love Walmart and the way they keep prices down ,really helps people on a budget. Keep up the great work you have a customer for life here ! Thank you
This is one nice sled. I bought it primarily to haul wood and also to haul my ice fishing gear. It's tough and should hold up well.
Delivered on exact day it was to arrive. Well built and roomy. Will be used for hauling decoys and gear. May also haul a deer or two and the grandsons behind the 4 Wheeler in the snow. Great price and free delivery to my door.
It looks like it should work just fine. Plan on using it for trapping and it holds my traps just fine. Should work OK picking up our catches.