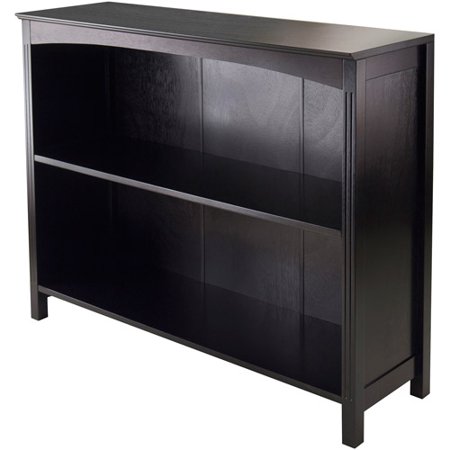 Display books, curios, plants, family photos and other knick knacks with this stylish Terrace Three-Shelf Bookshelf. It is made of sturdy and durable solid and composite wood and features a contemporary espresso finish that will blend with many decors. This wooden bookshelf can be used alone or paired with the separately sold baskets for added visual appeal.
Terrace 3-Shelf Bookshelf, Dark Espresso:
Made from a combination of solid and composite wood
Features 2 shelves
Dark espresso bookshelf features a profiled top adds additional storage space
Ideal for an office, reception area, study, classroom, living room, bedroom or dorm room
Reviews
This was the perfect size and it looks really good. It looks more expensive than it is. The directions were a little vague when it came to the ridge at the back of the shelf for the back piece. Had to take it apart and redo it.
Looks great in our new office.
We bought three of these for our den. They are great for what they are – utilitarian book cases – but by no means quality furniture. The assembly instructions were quite good, and they went together easily. They're rickety during assembly, but once they're squared, the back is screwed in place and the cross piece screwed to the top, they are fairly sturdy. We've stored books and CDs on the upper shelf without any sagging, but I wouldn't place any heavy objects on that shelf. We placed a 35 lb sculpture on the top close to the side support without any problem. When assembling it, be very careful setting the torque on an electric screw driver. I initially had the torque too high and it broke one of the cam locks and tore the underside of the shelf a bit. There were extra parts, so I replaced the cam lock. I was using a battery powered Craftsman screw driver. For the cam locks, I set it at 20 (22 broke the cam lock), at 4 for the cam lock posts, and at 2 for the screws for the back. All in all, if you're looking for an attractive, functional and inexpensive bookshelf, this is it.
It looks just like the picture and was easy to put together. Delivery was on schedule.
I bought this piece to add to my office for additional storage space. It offers nice, elegant lines that complimented my other dark pieces of furniture. It looks like a finer piece of furniture than the great price I got it for. 🙂
This is surprisingly sturdy for a "some assembly required" piece. Assembly was easy, supports were provided to reinforce the 3 back panels and these also screw to the interior shelf to avoid shifting and square off the entire unit. There are covers for the locking bolts that give it a professional finish. The unit is comparable to any displayed in my local shop. The dark finish blends beautifully with my décor. More than just a bookcase, this completes my dining needs as I am using it for my liquor table. I will not hesitate to look for complementary pieces for my future needs.
Bought for a home office as bookshelf and it is exactly what I was looking for. It can hold a bunch of books and looks good in its setting. Just be careful and don't over-tighten the shelf-to-sidewall hardware fittings.
One of the side pieces was cracked in half…thankfully I checked everything before assembly.