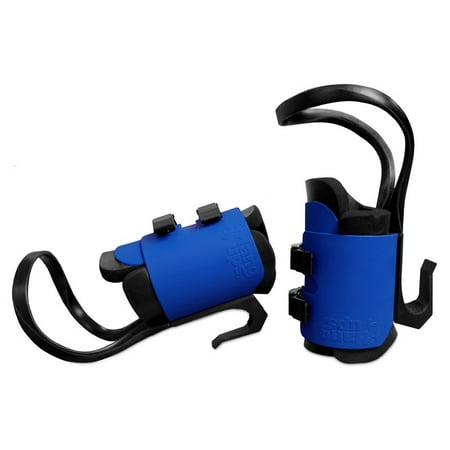 EZ-Up Gravity Boots offer a lightweight and portable inversion solution that can be used with select Teeter Inversion Tables, Inversion Racks and Bars, or even on secure, appropriately-sized bars at the gym. Aside from standard inverted decompression and stretching, the EZ-Up Gravity Boots allow you to comfortably perform inverted exercises including core strengthening and leg workouts.
Teeter EZ-Up Gravity Boots:
Dual, Self-Locking Buckles ratchet the boots securely around the ankle/lower calf area for a customizable, comfortable fit
Super-Soft 5/8″ Foam Liners are a special blend to give maximum comfort with minimum compression
Optional Calf Loops wrap behind each leg to place a 2-degree bend in the knees, which helps to reduce the load on the knee joints and top of the foot
Flexible, Lightweight Shell made of highly durable DuPont Hytrel for a more forgiving, slightly pliable boot that weighs just 2 lbs each
Specialized Materials including 40 percent glass/nylon alloy in the hooks and calf loops for unmatched strength and durability
One-size-fits-most design fits a majority of leg/ankle sizes; alternatively, Teeter offers an XL Gravity Boots option that is 1″ larger in diameter and 1½" taller (calf loops not included)
Use with select Teeter Inversion Tables, Inversion Racks and Bars, or at the gym
reviews
I immediately realized that getting inverted would be too difficult so I returned the boots and bought a table.
the hang ups work very well and are easy to get on and off after a couple of uses. the only problem is I have sensitive shins and could use a little more padding on the front of boots.
I use this daily to relieve lower back pain. Have to use it with a bar. I use an Iron Gym with it and works great. Your back will feel so much better! Hanging upside down really decompresses your spine and just feels incredible. Also, our cat Barry likes to brush up against my face.
I got them to supplement training for football. They fit fine on my skinny ankles and have plenty of room for adjustment. I did not experience any discomfort though i may have a bit more tolerance to that sort of thing. They operate in the same fashion as other athletic equipment that i am used to, so putting them on was easy. Teeter is a good brand.
Easy to get in and out of with adjustable locks. Comfortable fit with foam lining. Overall great product.
Similar to reviewer Wally B's experience with his boot straps breaking, all four retaining/ratchet straps on my boots broke on the same day, 3 Feb 2017, as I was trying to tighten them, one after the other. I'm glad I wasn't hanging upside down when this breakage occurred. I sporadically use my inversion table, far from on a daily basis, and haven't abused it or the boots. Over the 7 years since I purchased the table and EZ-UP gravity boots in January 2010, I probably have used the table no more than 50 or so times. Other than the straps breaking, the boots are in excellent condition and so is the table. No cracked plastic on the boots (other than the straps). No decaying foam liner on the boots. Points where the straps attach appear fine. The straps are easily removed. They simply slide out. I searched online for replacemnt straps available for purchase, but none to be found. Finally called Teeter customer service on 8 Feb 2017 after filing an online problem report with Teeter on 5 Feb 2017 about the strap breakage. The Teeter customer rep I spoke with was polite enough, but reminded me of the 5 year warranty and my boots being out of warranty. She told me I would have to send the boots in at my own expense, and the straps would be replaced at no cost. I asked her if straps could be sent to me instead, as I could easily insert them myself at connection point. She said that's against company policy due to potential liablity issues if something else is wrong with the boots. BS. I politely declined the send in offer as I don't care to incur the cost of shipping. If these straps were made out of more durable plastic, perhaps a kevlar mix, or were partially constructed of metal, the straps might not have broken / dry rotted. As is and based on my experience, the strap design material, prone to dry rot and breakage, poses a potential danger to the consumer after x amount of years or x amount of usage. Alternative, non-Teeter boots exist on the market that appear to be of better construction, at least when it comes to connection/tightening methods, and that's what I will pursue, even though they may turn out to be less comfortable than the Teeter boots were. I am going to file a report with saferproducts.gov regarding my experience with these boots and the potential danger they pose to owners. Either change the strap material to something more durable or design and implement a hardier and more trustworthy connection/tightening system. Perhaps if enough Teeter customers, who have experienced the same boot strap breakage as I and Wally B, file complaints with the Federal government, maybe something will be done. At very least, offer price friendly replacement straps for sale, especially to those of us for whom the warranty has run out, versus having to send the boots in for strap replacement—something just about any owner of the boots could easily do him or herself.