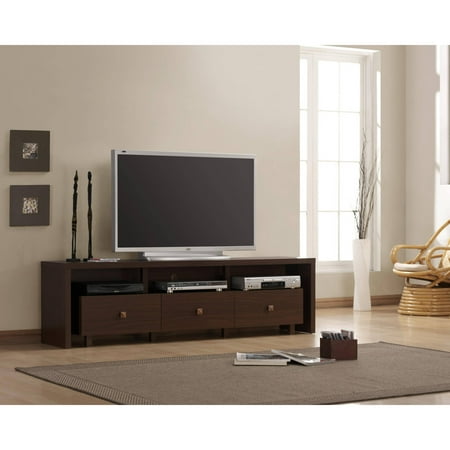 This modern Palma TV Stand with 3 Drawers, for TVs up to 70″ is designed to fit any bedroom or family room. It offers an open area under its main panel of 6.5″ high to store audio or gaming components and three storage cabinets , each measuring 20.7″W x 11.2″D x 9.2″H to store accessories. The Palma TV Stand with 3 Drawers is made of compressed wood with a paper laminate surface. Techni Mobili Palma 3 Drawer TV Cabinet, Multiple finishes for TVs up to 70″:
Modern styling
3 storage drawers to store accessories, each size 20.7″W x 11.2″D x 9.2″H
An area under its main panel of 6.5″ height with 3 shelves to store audio or gaming components
Made of compressed wood with paper laminate surface
Wood-like finish
Fits flat screen TVs up to 70″ (maximum weight: 130 lbs)
1-year limited warranty
Assembly required
Dimensions: 70.9″L x 15.4″W x 20″H
Model# RTA-8895-WAL / RTA-8895-HRY
reviews
It's a great tv stand, only took a couple hours to put together only because the instructions threw me off. Other than that, it is nice.
Haven't had any issue. Take about an hour to assemble it. With this price it is quite good. I would recommend it to friends.
Looks pretty good for more than 55 inch TV. Little time consuming to install though
This stand would look great if they had finished off the back panel in woodgrain. When it is all up together and you look at it from the front ,you just see the chipboard In the background. I will have to paint it. Otherwise it is fine. This makes the wires very noticeable.
I live this tv stand. It looks great. Only complaint was a little hard to put together. One spot putting rollers on was unclear. Besides that love it.
After I open the box and got the kids to get rid of the trash I felt a bit overwhelmed with all the pieces that was there and I wanted oh my goodness what did I get myself into. I took my time read the instructions and check to make sure I had all the pieces that took a while then I continued to read the instructions and simply placed all the pegs and 1st and the screws that needed to go in and did that also and then once I started putting the pieces together it started to come together as what's on the picture the one drawback that I saw was you are going to need two people when you have to do certain things and the instructions to put the the Glides for your drawer was not very clear but I was able to figure it out and it wasn't hard to complete. After it's all done and put together you do feel a sense of accomplishment because it looks exactly like the picture and it's quite strong I have my 58 inch TV on it. One thing that you should make sure of is to measure the item that you will place on the Shelf because the Shelves are not that deep my DVR sticks out quite a bit and it gave me a little bit of trouble to get all the wires from the DVR alone through that little hole that connects to the TV. My son commented that the area where it's at it looks very rich and I couldn't agree more excellent product I definitely would recommend purchasing this all over again I hope this review helps.
I needed a stand for my 75″ Sony Bravia that would fit in my entertainment unit. I have a bridge across the top that holds my center channel speaker so the stand could not be too high. This unit was perfect. It is not designed to hold bulky AV receivers and the like. Putting it together enables you to check out the quality and strength of something that is going to hold your TV. The shelves are deep enough for small and shallow peripherals like DVD or blue-ray players. The draws are great for all those small loose DVDs and other whatnots that accumulate around your entertainment unit. It helps clean up the clutter. If you want furniture, be prepared to spend 400-600 dollars or more, but if you want simple and sturdy, this is it. Takes awhile to put all the pieces together. Use Elmers Glue-all on all the dowel fittings. Nice product!
I had it 3/4 the way put together and tilted it up to finish installation and it fell apart!
Techni Mobili Light Walnut TV Stand with 3 Drawers for TVs up to 70":Contemporary styling3 drawer for accessory storage, audio or gaming components70" TV stand with additional storage spaceMade of com...