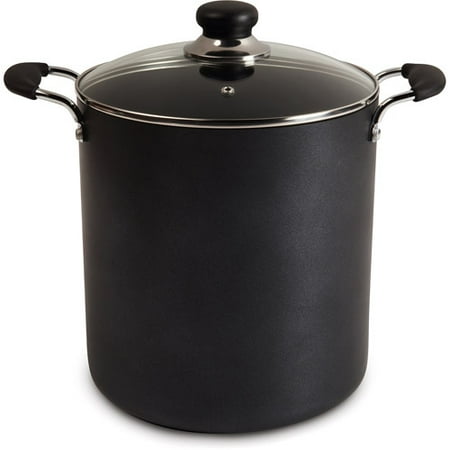 The T-fal Basic Easy Care 12-Quart Stock Pot offers a true combination of iconic style, quality craftsmanship and classic styling. This sleek black pot with chrome-like accents would make a great addition to just about any kitchen. This T-fal stock pot features solid construction and is built to last. Its base dissipates heat uniformly for even cooking, making this pot a smart choice for soups, stews and other recipes. This handsome stock pot features a non-stick coating on the inside and outside for easier clean-ups. It is also dishwasher safe. You can keep an eye on your culinary creations as they cook through the vented glass lid of the T-fal Basic Easy Care 12-Quart Stock Pot. This sturdy pot also includes riveted soft-grip handles for extra safety, especially when you need to move it from the stove to the sink or counter. This non-stick stock pot would make a great gift for the busy chef in your life who often cooks for a crowd.
T-fal Basic Nonstick Easy Care 12-Quart Stock Pot:
Superior nonstick interior is easy to clean
Non-stick exterior is also easy to clean
Base delivers even heat distribution for reliable cooking results
Vented glass lid provides visibility for optimum cooking control
Sleek overall design
Dishwasher-safe non-stick stock pot
This T-fal stock pot would make a great addition to just about any kitchen
Directions:
Fabric Care Instructions: See instruction manual
reviews
Perfect pot for making my sauce! Good size and allows for little splashing because it is so deep. Easy cleanup
This stock pot was awesome to use. Made soup in it this past weekend. Made so much it took two of us to lift it. However, I have two large containers in the freezer for the next time I get a craving.
WOW…I ABSOLUTELY LOVE THIS BIG POT…BEAUTIFUL, REALLY BIG TO MAKE LARGE AMOUNTS OF FOOD, NON-STICK COATING…SEE THRU LID WITH STEAM HOLE IN GLASS LID, SO NO NEED TO REMOVE TO PEAK OR TO LET OUT EXCESSIVE STEAM…..BUILT EXTREMELY WELL….DISHWASHER SAFE BUT I WILL BE HAND WASHING THIS BABY (EASILY WASHES UP QUICK, NOTHING STICKS AT ALL) SO AS NOT TO RUIN THE PRETTINESS (REALLY NICE OUTSIDE COATING)…PROUD TO HAVE THIS POT COOKING ON MY STOVE….HIGHLY RECOMMEND
Lightweight pot with nonstick surface. Good size, heats evenly. Steam vent in lid allows for cooking stews with lid on without fear of boiling over. Great pot.
It worked wonderful had my food very tender when taken out to eat
The lid on this pot has a design flaw that is annoying, to say the least. When washing water & suds get under the dome & I have to unscrew it from the top to rinse it, then put it back together. If not for that I would have given this a 5 star rating.
Great pot. I was very skeptical about this pot but am very pleased. It's great for soup n it's not stick. I am happy I found a pot that doesn't burn my soup
Great price and cooks evenly.I was able to cook very large portions of greens and other foods quite well and I will purchase another for my daughter and her family.I trust T-FAL products.
This pot is wonderful. It nice and tall. Would have liked it to be a bit wider, but all in all it is very nice. Big enough for 2 racks of ribs.