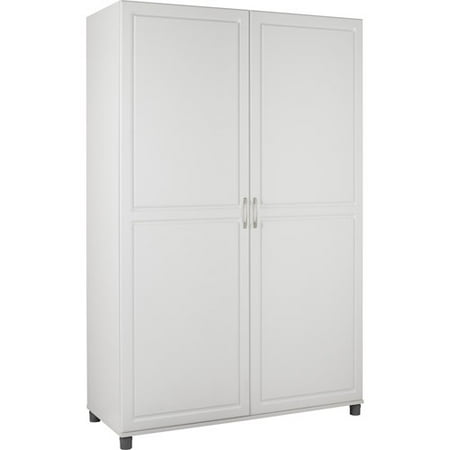 The SystemBuild 48 Wardrobe Storage Cabinet is the ideal storage solution for any home. This large Wardrobe Storage Cabinet features a unique layout that is designed for maximum storage. The interior features 6 shelves of varying sizes that allow you to store both large and small items. Theres even a closet rod to store coats or out-of-season clothing. The 48 Wardrobe Storage Cabinet features a crisp white finish that creates a refined, clean look in your home. Use this piece as a stand-alone item, or combine it with additional SystemBuild storage items to create the perfect storage solution for your home. SystemBuild 48 Wardrobe Storage Cabinet requires assembly upon delivery.
SystemBuild 48″ Storage Wardrobe Cabinet, White:
ArmorCoat surface protection on all surfaces and shelves provides superior water, stain and scratch resistance
Durable raised panel doors easily wipe clean
Soft closing doors shut quietly and avoid slamming
4 shelves, 3 adjustable and clothes rod
reviews
We bought this cabinet for an area where there is traffic flow, and it looks very nice. It is sturdy and worth every penny we paid for it.
Assembly was pretty easy. We purchased a 1/4 inch thick Maple piece of plywood and had cut to fit cabinet and used as backing for this item. It gave the inside and backing a nicer finish and gave the unit much more stability!
Cabinet was easy to assemble. Sturdy and looks very nice. The only problem I had was with getting the doors lined up. They're still not right, but I can live with it.
Came in the expected color; with all parts and accessories; right measurements; no damages to color, parts, or accessories, & thr size (to me it looked smaller than the actual size online) is awesome although I could use one more, lol. The price for this is affordable and does not reflect thst it has a better quality than what one would assume because of it's price. There is no harsh odor. It is truly heavy and might need the help of two to three others to carry unless you are a stronger than usual individual. One should Not attempt to lift this alone. I assembled it alone but had one person to help lift it right side up to prevent damage. Assembly it simple compared to other experiences I've had with similar furniture. To maintain conditions I suggests avoiding overloading items in any are of the wardrobe andd placing items on top. Be careful of opening and closing doors and placing near heat/air vents and windows or busy areas of a room (entry/exist). Woyld not be good for heavy items or hard items such as tools, multiple mid to large size devices, very heavy quilts and other garment of too many at once.
Easy to put together….very spacious. It holds all my small appliances, pots/pans, and pantry food. I highly recommend this cabinet, and plan on buying another soon.
came really good, not dents etc, all the pieces seem to be in good state. we have not put it together yet, but it looks like a well building cabinet, just what I was looking for, I was using the cloth hanging cabinet, and really they will not sturdy, and I thought this was would be perfect.
Bought 3 and used the wardrobes in our basement for storage. They are sturdy and hold lots of stuff! Easy to put together, but doors were a bit of a challenge to get them lined up evenly. They have adjustments, so you just have to keep adjusting until it works!
This item is not sturdy. It has to be drilled to the wall, and still is not sturdy. This item is a free standing piece. Wouldn't recommend it.
This stylish storage cabinet features fixed and adjustable shelves to suit your needs. The ArmorCoat surface resists scratches and stains to help maintain a neat appearance. Engineered wood offers cla...
Part of the SystemBuild utility storage family! This SystemBuild 48 Storage Wardrobe Cabinet offers a lot of storage and organizational options for virtually any room in the house. One fixed and three...