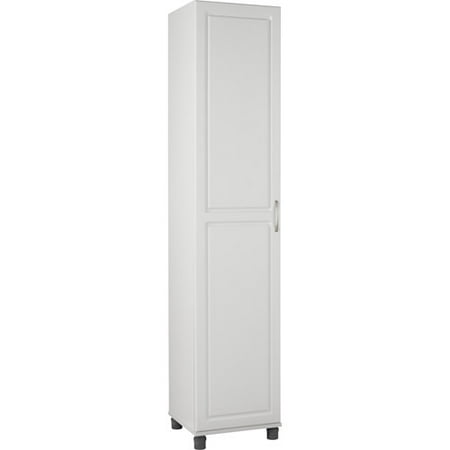 The SystemBuild 16 Storage Cabinet is perfect for small spaces. The tall height and narrow width allow you to store items from top to bottom, saving valuable floor space in your home. This 16 Storage Cabinet includes 4 shelves. Three of the shelves are adjustable so that you can space them to meet your storage needs. The 16 Storage Cabinet features a crisp white finish that creates a refined, clean look in your home. Use this piece as a stand-alone item, or combine it with additional SystemBuild storage items to create the perfect storage solution for your home. SystemBuild 16 Storage Cabinet requires assembly upon delivery. SystemBuild 16″ Storage Cabinet, White:
ArmorCoat surface protection provides superior water, stain and scratch resistance
Cabinet features 1 fixed and 3 adjustable shelves to customize your storage
Assembled dimensions: 74 5/16h x 15 11/16w x 15 3/8d
Soft-closing door shuts quietly and avoids slamming
Laminated MDF and particle board
16 Storage Cabinet coordinates with other pieces in the SystemBuild Kendall collection, providing a customized storage solution for any room in your home
The narrow width of this Storage Cabinet makes it ideal for small spaces, such as a kitchen or laundry room
Keep your room clutter free with the SystemBuild Kendall 16 Storage Cabinet
Height adjustable feet allow leveling on any floor and keep cabinets away from standing water
Concealed 6-way Euro hinges on the door create a finished look
Raised panel door front adds style to this functional item
Easy-to-maintain surface effortlessly wipes clean
Assembly required
Customize your storage space by adding additional SystemBuild Kendall Storage Cabinets, Base Cabinets and Wall Cabinets to your home
reviews
This is the sixth one I have added to my home. Solid, sturdy, attractive storage. The 16 x 16, either full height or stackable, is a great addition where space is limited. I added two full-height storage cabinets in little corners of my sewing room, and four stackables in a bathroom. Adjustable feet help square things up in my hundred-year-old home. Quiet-closing doors. Definitely a superior storage product.
I really needed storage in my garage for my cleaning supplies. This was perfect for what I needed. I like the idea that it has plastic legs so I don't have to worry about water on the floor.
This was a bargain. I looked at one from IKEA and some other websites and they were very expensive. In fact one of the more expensive ones were made by the same company that makes Walmart's version. Easy to put together. For what I needed it was perfect.
When I purchased this I honestly expected it to be cheaply made and not of the best quality . I was wrong! Super heavy, durable and well made! Something I didn't know that I love about it is that it came with quiet close door hinge so I can slam it, and it's quiet!
I actually haven't put this together yet, but as usual, it came in a timely manner and had no defects on the box. I am using this as a small pantry for our new mother-in-law suite. I am sure it will be wonderful.
It's amazing what you can do with a couple of feet at the end of a long room. I live in a small apartment with my son and his two kids. Storage is a premium. The living room was a rectangle, so I lined one wall with a variety of these shelves. One is a pantry, one a craft closet, one a wardrobe and the newest one is a closet for my vacuum cleaner. They look great and make all of the difference for having a place for everything so that everything can be put away.
It's a place to hide junk food. I wished I knew which way I wanted my door to open. A disappointment to my assembling skills (lol). My husband resolved that easily.
I needed shelving exactly 16″ wide when assembled (or a whisker under) and after ordering a "16 inch closet insert" from another store that turned out to be over 16″ when assembled, I found this! Put two of them together by myself, left off the doors and inserted the assembled units into closet–ran a melamine shelf (purchased separately) between the units and VOILA! a storage & laundry folding space in a formerly useless closet! 🙂 Floor in that closet slopes a bit, so the self-leveling feet were a HUGE bonus!!!! My only regret? that this unit doesn't come in other colors. I'd have preferred a wood look. Shipping was prompt, item well packed (and VERY heavy),
I wanted to cry after I put this together. I am very handy and know what I'm doing. The backing is made of cardboard, it is wobbly and the henges don't line up on one. I bought this with 3 small cabinets for my laundry room. Trying to undo them and get them back in the box for a return is impossible, plus the shipping would be more than what I paid for all 4. I wasted $350. I'm going to buy plywood and make my own study backing, but why should I have to do that. Not even sure if that will help.