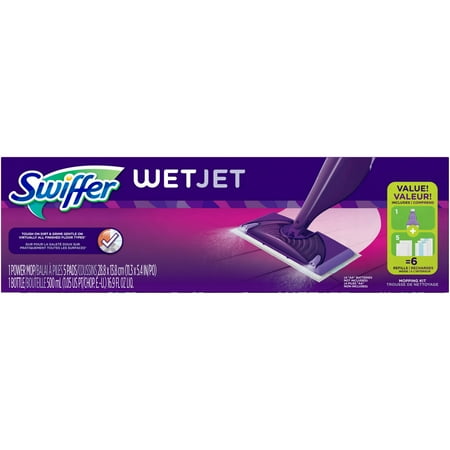 The Swiffer WetJet Hardwood Floor Spray Mop Starter Kit gives you a great clean on virtually any floor in your home. With a unique dual-nozzle sprayer, this all-in-one mopping system breaks up and dissolves tough messes for a powerful clean. Its cleaning solution loosens dirt and lifts it off the floor, pulling dirt and grime into the WetJet pad and locking it away for good.
Swiffer WetJet Hardwood Floor Spray Mop Starter Kit:

Includes: 1 power floor spray mop, 3 extra power pad refills, 2 original mopping pad refills, 500ml bottle of cleaning solution, and 4 batteries
Absorb + Lock strip helps trap dirt &
grime deep in pad so it doesn't get pushed around
Designed to give you a great clean and act as a hardwood floor cleaner, laminate floor cleaner, and tile cleaner
Safe on all finished wood floors
Directions
:
Instructions: 1. Spray – solution dissolves tough, sticky messes. 2. Trap – pad traps & locks away dirt & grime. 3. Toss away the dirt forever.
reviews
I really like the swiffer. It is way easier to pull out and use quickly vs trying to use a mop and bucket. Veey helpful for when the cat vomits on the floor and my mom dribbles to the bathroom. She is elderly and is embarrassed this way no one needs to know. I wish I had bought one sooner.
I have owned this product since it was introducted to the market. It is absolutely WONDERFUL. It assembles easily and cleans like a pro. I tried others but none compare – keep up the good work, you make mine easier!
Love it if there is just mud or a small mess on the floor. You have to work at it harder to get food or something sticky off the floor.
I just bought a house and have been looking for something to safely clean my hardwood floors with. It was very easy to assemble, I didn't even need to read the directions, everything just clicked into place. The batteries were easy to install, the bottle of cleaning solution installed easily also.
Micanical unstable!! I have bought two and after a few months, it does not squirt the liquid evenly, sometimes not at all????
I have floors in my apartment that are made of some type of synthetic material. I also have a dog which at times has an accident. The Wet Jet cleans the floors and accidents extremely well. The product leaves my floors clean and does not have any smell or residue. My supermarket has all of the Sniffer products and refills.
We purchased the wet jet couple of months back and the handle broke with twice in a week usage! And we have wooden floors just in our living room, so the usage was very limited. Really disappointed with the quality of the mop. Its a shame that swiffer provides such low quality mop which does not even last 2 months! Certainly did not expect this. Its a complete waste of your money.