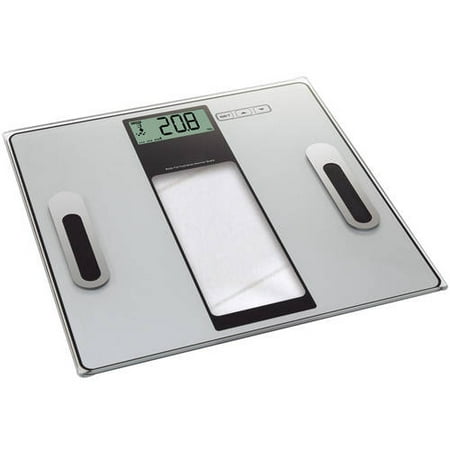 This Super Slim Body Fat Hydration Monitor Scale will help you stay on top of your diet or exercise regime. It features a large LCD display that is easy to read. The body fat monitor scale is made with a 6mm glass platform. It has a weight capacity of 330 lbs and uses a lithium battery.
Super Slim Body Fat/Hydration Monitor Scale:
LCD size: 74mm x 35.6mm
Body fat scale with 6mm glass platform
Maximum weight: 150 kg/330 lb
Division: 100g/0.2 lb
Power: one 3V lithium cell (CR2032)
reviews
Scale works great and it was a great price for such a nice scale.
I am so happy I shopped online instead of in the store. This scale is a great purchase and I would recommend it to anyone in need of a good scale.
Love it, does all that is expected.
Easy to set..nothing to screw together. Ready..Set..Go!! It is completely Terrific!
This scale is amazing. It is very sleek and thin. It looks great in my bathroom, and works very well. This product is everything that it promised to be.
I don't see varying weight when I use this like others have reviewed here, but I do see it consistently showing my weight 1.1 pounds more than a medical grade Omron scale I have. And about 2 pounds more than a friends scale. Also a negative, it uses a CR-2032 battery (small coin style battery). Wish it used a more common and less expensive AA or AAA battery.
This seems very accurate for the weight, as long as you place on a flat surface. Takes a few minutes to set up the profiles for family members. Not sure how accurate body fat is, but seems reasonable.
Not only did it take 3 shipping attempts to get this item to me (for some reason Walmart.com thought that FL stood for Tennessee) This item does not work. It will only read body fat if you have between 3-5% apparently and the water doesn't work at all. It gives your weight (not very accurately, if I step on the scale 5 times in a row I MAY get the same reading twice… MAY. I've done it several times) but that's about it. Not impressed at all.
Remedy Digital Scale - Body Weight, Fat and Hydration: Equipped with 4 high precise strain gauge sensorsTempered safety glass platformWeight capacity: 330 lbs (150kg) Fat graduation: 0.1 percent10 gro...
Electronic Digital Scale for Body Weight, Fat and Hydration: Clear glass health-o-meter scaleMeasures your body weight, fat and water retention accuratelyQuickly and cleverly informs you of the number...
Super Slim Body Fat/Hydration Monitor Scale: LCD size: 74mm x 35.6mmBody fat scale with 6mm glass platformMaximum weight: 150 kg/330 lbDivision: 100g/0.2 lbPower: one 3V lithium cell (CR2032)