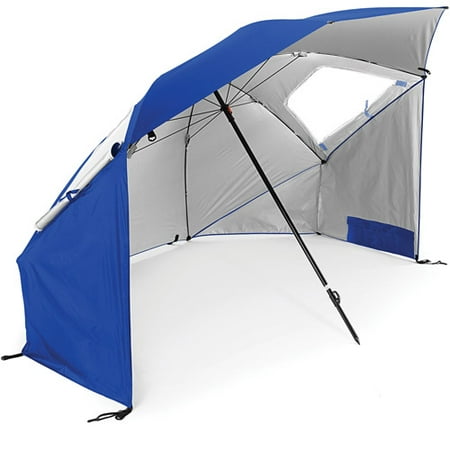 The Super-Brella provides comfort and shade from UVA and UVB rays wherever you go. Conveniently portable, it can be taken to the beach, outdoor sporting events and more. Water-repellent, it also shields from the rain and wind, keeping you dry. The folding umbrella action makes it easy to quickly set up while the rigid structure and side flaps offer complete protection. Wind vents in the top and zippered windows on the sides of this blue umbrella allow for airflow. A carry bag is included, as well as tethers and ground stakes to keep the umbrella securely in place.
Super-Brella, Blue:
Quick shade protection from sun, wind and rain
Easiest setup sun shelter available with folding umbrella action
Rugged umbrella structure with side flaps for full-cover protection
Top wind vents and side zippered windows for efficient airflow
Maximum sun protection (UPF 50)
Protects from over 99.5 percent of UVA and UVB rays
Water repellant fabric keeps rain out
Portable umbrella includes convenient carry bag, tethers and ground stakes
reviews
The super brella took seven days to deliver, not two. The unit came with four large and four small stakes. The first large stake broke on the very first push in the sand. The small stakes are too small to work. On a good note, I will pick up some new stakes and should be fine. Also when I contacted Walmart about delivery they sent a five dollar voucher. The umbrella itself seems fine.
I've only used it once for an event. does the job and you can anchor down the sides. Great value for the item.
such an easy set up! I saw another one of these same brand on the beach standing in upright position like a regular extra roomy beach umbrella, not just a tent fashion !
This umbrella works amazing for babies on the beach. It can stake into the ground so it works well on windy days as well! Plenty of room for a couple chairs and a baby on the ground 🙂
This umbrella is easy to put up and take down. It is perfect to use on the beach when you need shade for children.
Nice umbrella; however, it broke on first use. Just like a regular umbrella, a big wind came, and the umbrella inverted and broke. So you have to be careful with it.
Worked good at first. No straps to hold up flaps on the sides so they just hang there. The piece that goes in the top of the pole you hammer in the ground is plastic and the metal on top of the pole is so cheap it started bending when we tried to hammer into ground that was medium hardness. Returned!!