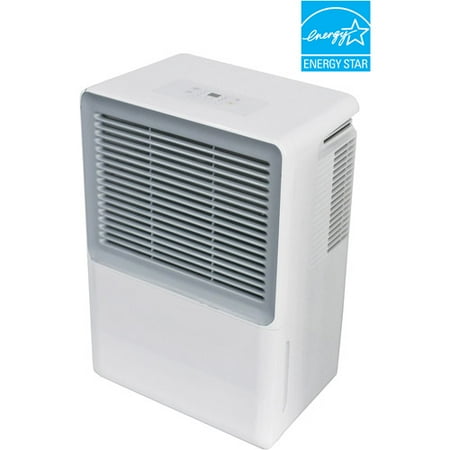 This Sunpentown 30-Pint Dehumidifier with Energy Star is designed to remove excess moisture from your home quietly and efficiently. A necessity for those suffering from dust mite allergies or simply for those who want to keep their indoor humidity at a comfortable level. Air that is too damp can cause itchy skin and nasal passages, condensation on windows, water damage to materials, mold growth and rotting of wood materials in your home. Supentown dehumidifiers remove moisture from the musty air so you can enjoy year-round comfort in your home or office.
Sunpentown 30-Pint Dehumidifier, White:
The Sunpentown 30-Pint Dehumidifier offers the choice of continuous de-humidifying or 35-85 percent humidity settings (in increments of 5 percent)
Full bucket indicator with auto shut-off
Memory IC (unit restarts at precious setting after power failure)
The Sunpentown 30-Pint Dehumidifier has a washable air filter with reminder indicator
This ENERGY STAR Dehumidifier has a removable bucket
Continuous drainage option (hose not included)
Casters for easy mobility
Time delay auto protection
The ENERGY STAR Dehumidifier features a 1 to 24 hours timer
2 fan settings: normal and turbo
Soft touch electronic control panel
Quiet operation
UL approved
1-year warranty
White Sunpentown Dehumidifier Dimensions: 19.88″L x 14.17″W x 10.24″H
White Sunpentown Dehumidifier Model# SD-31E
reviews
I've only been operating this one week, but so far it seems to be doing a good job. The humidity in the room has been lowered slowly but steadily. However, the instructions are inadequate and poorly written and I have had to contact the manufacturer customer service for help. Be careful when you empty the water tank as it is awkward to remove and empty.
Great mid size machine. Good price.
performed as stated , but water tray is difficult to remove ,also to reattach other wise worked great.
Picked up the unit at the local WM after ordering online. Well protected during shipping. Retail packaging shipped inside another well fitting cardboard box. Only shortcoming I see is the water holding tank is too small and easily spills when emptied. I had empty the tank twice in less than 8 hours. It has an adapter for a garden hose but my location doesn't allow for it.
I have had this for only 2 days so far. It is far quieter then I expected. The key is not to have this unit touch anything else. By itself it manages vibration not turning into sound well. If it touches something, then vibration affects that, and that starts making noise. It dries air competently, steadily but surely reducing humidity. Its humidistat is accurate, as it compares well with the one I have.
This is smaller than some so it's not to heavy to empty the water when it's full. It has been pulling moisture out of my damp house. It it full every 8 hours or so and shuts off until you empty it. It was very easy to unpack and set up. I'm very happy so far after 4 days.

The unit is working very well it is in the basement, I am using the drain line it was easy to install. The unit is very quiet and efficient.

My purchase of this dehumidifier was based on the good reviews and recommendations by current owners. However, after only one day of ownership, I returned it to WALMART. Some of the controls did not work, even with the assistance of Technical Support at SUNPENTOWN.