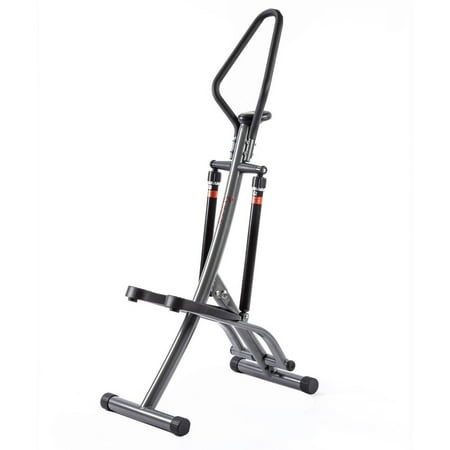 Get all the benefits of a stairstep workout indoors with a Sunny Health and Fitness Folding Climbing Stepper (SF-1115). It's an excellent low-impact workout tool and it's also ideal for indoor mountain climbing and training. The Sunny Health and Fitness stepper effectively tones and tightens your calves, buttocks, thighs, hips and other areas of your core and lower body. Use the large and easy-to-read display to get real-time information about your current workout, like calories burned and time elapsed and help you plan your next workout session. The folding stepper has two adjustable resistance cylinders that provide a smooth workout and let you customize the resistance levels. This exercise equipment is portable and easy to transport, making it ideal for frequent travellers. You can store this Sunny Health and Fitness Folding Climbing Stepper under a bed, in a closet, in a corner and practically anywhere else in your house, apartment or garage.
Sunny Health and Fitness SF-1115 Folding Climbing Stepper:
Basic training for indoor mountain climbing
Provides a great low-impact, calorie burning, cardiovascular workout
Tones the calves, buttocks, thighs and hips
Display features: calories, scan, timer and count
2 adjustable resistance cylinders provide a smooth stepping motion
Great low-impact, calorie burning, cardiovascular workout
Folds for easy storage
Assembled dimensions: 27″L x 17″W x 54″H
Model# SF-1115
reviews
I was skeptical about this purchase but to my surprise it is a great stepper! Would definitely recommend to anyone looking for a good cardio workout. After 30 minutes I'm soaked in sweat and my lower body is burning up. I usually run uphill sprints on my treadmill, but honestly I think the stepper is more challenging!
Had it for a couple weeks now. Love it! You can feel the burn right away, intense workout. Not once have a woken up sore. I think that's a plus since my job has 3 sets of stairs i climb everyday. Haven't weighed myself but i feel the diffrence in such a short time. I do 1 or 2 20minute workouts everyday.
Used the machine over a dozen times now. Great workout for the money. I would rate it five stars, but the hydraulic arm leaked oil the first time I stepped on the pedal. Contacted Sunnyhealthfitness and they took care of it right away.
I love it.. it's does what it's supposed to which is a stepper and if your on it for a good 10 mins on level 1; you will get your workout and you'll feel the burn. My husband and I are in love with it. He switches to level 12 and does at least 5 mins on it and gives him good resistance. Very satisfied customers here =)
bought this stepper machine three month ago. I use it for 30 minutes at least five days a week. I'm happy with the performance of the machine. the only issue I have is with the configuration of the hand or arm rest. I'm 5'10" tall and when I'm using this stepper machine it feel very uncomfortable to rest my arms on the triangular shape rest. it cuts the blood circulation at the elbow joint and makes my arms feel numb. or if you rest your hands on top the arm rest. it also feels uncomfortable because you have to put one hand on top of the other and does not provide the proper positioning of the arms. I wish they would reconfigure the arm rest to a wider horizontal handle. everything else works great.
As a person who has exercised most of my life, this stepper is the hardest workout i endured. I started on level 1 but realized level 5 is easier. This is not an exerciser for prolonged workouts. You will feel the burn after a minute. I do a minute and a half, do another exercise for about a minute then jump back on the stepper. I do this for around 10 reps. Great workout, lots of sweat, in a short period of time.
This stepper is fairly easy to put together. To unpack the parts and assemble them can be done in about 30 to 40 minutes or less. It feels solid and works smoothly. I'm not sure that it would be satisfactory for a six-footer or someone who is in the two-hundred-pound category. The dimensions might be a bit tight for those folks, though the stepper seems sturdy enough to hold them. I've used it for a couple of weeks, and so far I'm satisfied.
I would not recommend this item. When I received this it was missing the digital display that fits in the center between the handlebars. I 5'7 and am too tall to really be comfortable using this machine. My knees keep bumping up against the front bars. The handle bars are a bit to low to really be of any use. The screws that keep everything together have to be constantly checked so it doesn't fall apart when excercising. This has not been a good purchase. I would definitely recommend that if you are wanting to buy a good exercise machine that you consider something else. You will be greatly disappointed with this device.
Sunny Health & Fitness SF-1115 Climbing Stepper For Legs, Hips and Buttocks If your lower body seems resistant to diet and exercise, then consider the Sunny Health & Fitness Climbing Stepper ....