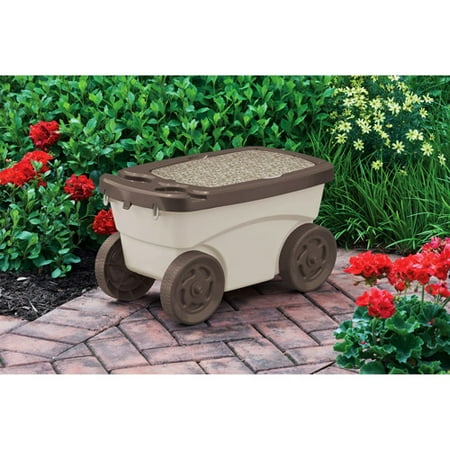 The Suncast GDS200 Garden Scooter gives you an ideal storage solution for your garden tools. Say goodbye to accidentally tripping over a small shovel or worrying if the kids are getting access to your gardening stuff because this product will keep them all together safely. The Suncast garden scooter has an 8.5-gallon capacity and has a durable resin construction that is built to last a long time, rain or shine. It has a pull strap that allows for easy mobility, which comes in handy during garden work. The cup holder also offers space for holding two cups so that you can enjoy drinking tea or your favorite cold beverage while cleaning up. This rolling garden scooter comes with an accessory bin and a foam cushion that can also be used as a kneeling pad.
Suncast GDS200 Garden Scooter:
8.5-gallon capacity rolling garden scooter
Ideal for storing tools and accessories
Durable resin construction
2 built-in cup holders to hold your drinks as you do gardening work
Pull strap included for easy transportation and mobility
Foam cushion for comfort while sitting can be removed and used as a kneeling pad
Accessories bin included
Built to last for a long time, rain or shine
Model number: GDS200
reviews
Love this rolling trolly. After years of sore back and knees from weeding I tried this cart. It is the perfect height for weeding my flower beds. I just rolled along, no bending over or getting up and down. I weeded all my flower beds in no time at all seated on this rolling trolly.
I am going to use the scooter to sit on while I am weeding my flower beds.
I am pleased with the cart and plan to use it extensively this spring while tending all my plants. It should be very handy to carry my trimming and weeding tools around my large yard and great for me to take a short break and have a seat. I was slightly disappointed when I received it, though. It was not a large as I expected it to be, even though the description did give the dimensions. I am attaching a photo to show the size of the cart beside a garden wagon. Even though it is smaller than I expected, I still think it will be roomy enough for my needs. The design is such that you could carry a bag of potting soil and tools, and it rolls very nicely on the grass.
I love this cart! It came assembled, ahuge plus. It has everything I need, the perfect size, the seat, kneeling pad, easy attach strap and cup holder. Perfect for a smaller garden w everything in a compact easy to store unit. I love it.
I had one and time and sun and probably my weight cracked the seat so I got another one. yes I really like this scooter,saves the back and knees.
I have had one of these for years however when I purchased it for my daughter I found a better one than mine. It's lightweight yet sturdy. comes with a strap to pull behind you and even has a cup holder for that cool drink. Of course you can place your tools and potting soil right inside. I just may ask for this one for myself.
This cart works well for doing close work to the ground. Sturdy enough to hold my weight (200 lbs). Light weight for carrying. Wheels could be a little larger, but I like the cart. The first one I had lasted 5 years!
I have bad knees and I can't stoop down. The first time I used it was when I wanted to wash my bottom kitchen cabinets and appliances. It was so nice to be able to roll around and not have to get up and down to do this chore. I haven't used it outside, but I mainly bought it to work inside the house so I wouldn't have to stoop. I weigh 190 lbs and it held up just fine.
I received this as a gift from my grandbabies. It seemed perfect…seemed… I pride myself with keeping my weight under 200 pounds, but as soon as I sat on this scooter, I felt it start to collapse under me. I tried to get up quickly and took a tumble. My son could see creases in the plastic where it had started to collapse. My daughter-in-law, who weighs considerably less, tried it out, tried to roll side to side on it, and the plastic cracked above the wheels. The weight limit for persons using this cart is 225 lbs. This is not at all accurate.