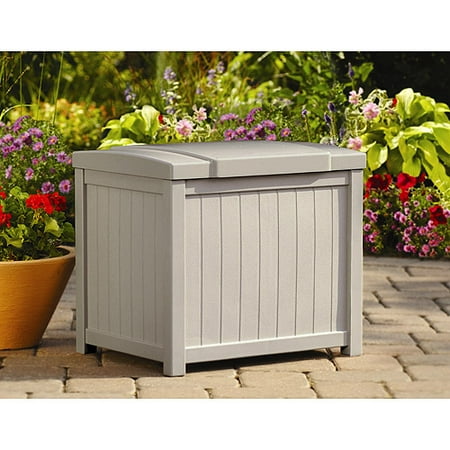 Add a reliable storage solution to your patio with the Suncast 22-Gallon Deck Box. Featuring long-lasting resin construction, this deck box will serve its purpose for a really long time. Ideal for both indoor and outdoor use, this resin Suncast deck box provides a storage space of 22 gallon to accommodate garden supplies, sports equipment, clothing, and many more. With a stay-dry design, this deck storage box ensures that the contents are kept dry. The deck storage box can be assembled in no time, requiring no tools – just snap the parts together and click, the storage box is ready for use. This Suncast 22-Gallon Deck Box is easy to maintain too. Available in taupe, this storage box will certainly make a great addition to your outdoor space.
Suncast 22-Gallon Deck Box:
22-gallon capacity
2.9 cubic feet
Great for indoor or outdoor use
Great for garden supplies, clothing, sports equipment and many other products
Stay-dry design
Long lasting resin construction
Assembled Size: 22"L x 17.5"W x 24"H
Easy assembly
Model# SS900
reviews
Easy to put together. Instructions were very clear. Nice looking. It is indeed waterproof. I am pleased.
This is a very quality item as well as being attractive sitting on my deck. I purchased it along with Suncast's 73 Gallon Deck Box w Seat that has wheels, which is the same identical color. The two deck boxes provide me with extra storage space that I needed so badly. The attractiveness of the two is simply a plus! I'm VERY happy with my two purchases!
Works for storing and protecting my Deck chair cushions close enough to take out when weather permitting and store again conveniently
It was very easy to assemble and is sturdy enough for normal storage needs.
This is everything it is advertised to be! Sturdy, nice size, quick and easy to put together. I'm delighted!
This box is very sturdy and would even serve as an extra seat if needed. If holds everything that's needed to wash the car, bucket, cars wash, sponges, towels etc. I purchased a second one to put my power washer and 50 foot hose in and it's perfect. Well made and so easy to put together, no tools needed, snaps together very quickly. One of the most easiest things I ever put together. Would highly recommend.
Attractive and sturdy deck box. I use this one, temporarily, for my "recycles" on the deck just outside my kitchen, to save steps to the larger city container at the side of the house, in inclement weather and at night. Perfect. Assembled with no tools in less than 10 minutes. I am ordering a second one for the deck for storage space.
It's just the right size to hold my all tools and items for the backyard gardening. Plus it doesn't take up a lot of space on patio. Assembling was super easy and fast.
I purchased this product for the sole reason of keeping my BBQ grill equipment dry. After the first rainfall I came out to find everything inside soaked. I'd recommend that you keep looking.