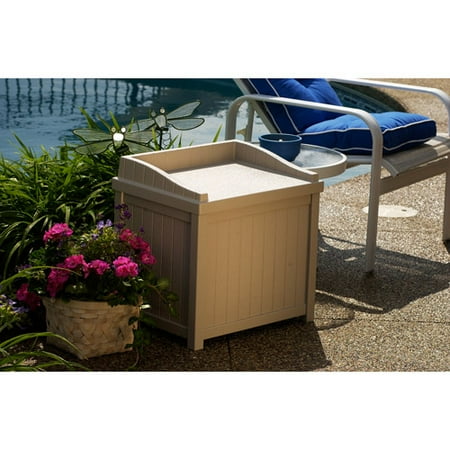 The Suncast 22-Gallon Deck Box with Seat will be a great addition to your lawn, patio or deck. Other uses include swimming pools, saunas and dressing rooms. The Suncast deck box is durable. There is plenty of room for yard supplies, outdoor accessories, tools and supplies, hats, gloves, boots and other essentials. The item doubles as a comfortable way to sit down. It can easily support up to 200 lbs of weight. This deck storage box is made with a heavy-duty, stay-dry resin construction that makes it more durable. It is also resistant to fading. It does an excellent job of keeping out rain and keeping your things dry. Suncast Premium 22 Gallon Deck Box With Seat:
2.9 cu. ft. seat with plenty of room
Measures: 22.5″W x 17.5″D x 22.5″H
The deck storage box holds yard supplies, outdoor accessories, tools, clothes and more
Great for yard, patio or lawn
Also great for swimming pools, saunas and dressing rooms
Durable stay-dry resin construction across changing conditions
Fade-resistant taupe shade
Keeps water out
Easy, tool-free assembly
Suncast deck box with seat
Model# SS1000
reviews
Easy to assemble, true to the picture. We are using it as a place to out old towels right outside of our front door to wipe paws of doggie guests.
This item sold elsewhere for more than double the price. It is easily put together within minutes without tools. Very sturdy for sitting and just enough room to store the pool towels in the summer.
Bought two of the smaller ones and literally had them put together in less and 10 minutes. All the pieces snap together and it was super easy. Have one for gardening and another outback for firepit cushions and supplies. Simply love how easy they were to put together, great storage and the price was right!!
Very nice sturdy product and easy to put together. Great price
Product is exactly as shown. It holds the outdoor items I wanted to store outside and is sturdy enough to serve as seating.
Loved the fast shipping. Easy to assemble. Sturdy construction. My only concern was that all four sides were not completely flat as shown in the the ad photo. They are slightly bowed. Doesn't hurt the function, just looks a little off.
Probably overpriced for what you get, but it is easy to assemble and has a large storage area. I do not particularly love the color, but I knew what I was getting. The color I really wanted, the darker brown, was more expensive for the same thing, and I just couldn't justify the increase in price, so I went with this one. I don't expect this piece to last years, but bought it to hide kitty litter supplies on my patio and it is working fine for that. It has not rained so I don't know how waterproof it will end up being. It is serving the purpose I purchased it for, so I guess it is OK.
So far, this is pretty useless. No instructions were included, so I had to guess what went where. I guessed wrong and now can't get it apart to put together correctly. So far, it's a giant waste of money.