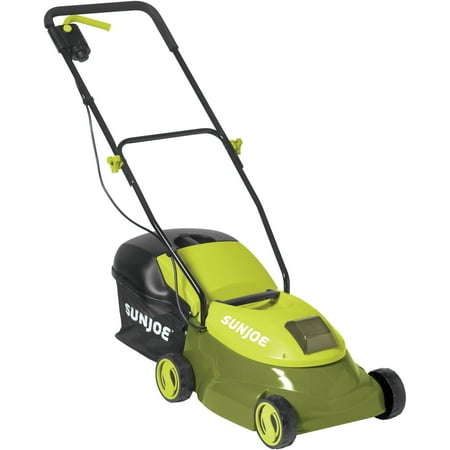 Mow with Joe! Ditch the cord and gas, and cut the grass with MJ401C, the completely cordless counterpart of Sun Joe's best-selling MJ401E electric mower. Perfect for small to medium lawns, the eco-friendly, battery-powered mower's durable steel blade cuts a crisp 14-inch wide path with precision in a single pass, and it features a convenient 3-position manual height control to quickly tailor your turf to just the right height. When you're ready, simply insert the key, press the safety switch, squeeze the trigger and go! Collect the clippings with the 10.6-gallon bag, and detach for quick and easy disposal. Plus, MJ401C is driven by a long-life, peak performance rechargeable 28-volt lithium-ion battery and mows over 10,000 square feet on a single charge, for the ultimate in cordless convenience. And when the work day is done, simply plug in and power up. Blast past the limits of the extension cord with cordless power and performance, and Go with Joe.
Sun Joe 28V 4.0-Ah Cordless 14″ Lawn Mower:
Best for small to mid-sized lawns
Built-in push-button LED battery level indicator
Removable safety key prevents accidental starts
Durable steel blade mows a 14″ (35.6 cm) wide path
Peak performance 28V rechargeable lithium-ion battery for up to a quarter acre of continuous mowing per charge
Detachable 10.6-gal (40 L) grass catcher for easy disposal
Tailor cutting height with 3-position manual height adjustment
ETL approved
Full 2-year warranty
reviews
Purchased this mower for my neighbor. When we took it out of the box it looked and felt as light as a toy mower. We tested it out with the charge that was in the battery, and it cut the grass better that some gas mowers I've used. My neighbor is in her 80's and she loves it. Lightweight, easy to operate and cuts like a charm.
This is an excellent cordless mower for small yards or for cutting in tight spaces around flower beds, decks, porches, fence lines, etc. Assembly out of the box takes 10 minutes. You'll only need a phillips screwdriver to attach the handle. For safety, it even comes with a key that you can keep secure, the mower will not operate without the key. Keeps curious kids from starting the mower. Once assembled, charge the battery using the wall charger. When the light is green you are set. Max charge time will take 4 hours, usually less. Fully charged this will run for about 30 minutes cutting normal lawn grass. The collection bag fits securely on the back and will hold ten gallons of clippings/leaves before it needs to be dumped. It removes easily for fast bag emptying. Deck height has three adjustments and can be done tool free. Love that! This cuts easily, pushed like a dream because it barely weighs 23 pounds total. On regular grass we cut 30 minutes of cut time, on very thick or damp grass cutting time will be reduced. This is an excellent mower for those that have small yards, condos, or like me, someone that wants to trim close to garden features, lawn ornaments, against fence lines and garden beds where the big riding mower won't fit. I highly recommend it.