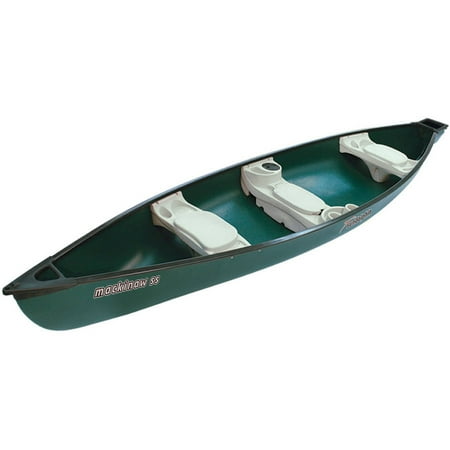 Have a wonderful day on the water with this Sun Dolphin Mackinaw 15.6′ Square Back Canoe. It is constructed of rugged UV-stabilized Fortiflex high-density polyethylene and features a sturdy square back transom that is suited for electric trolling motors. This three-person canoe is equipped with convenient paddle holders for added convenience. Paddles and motor are sold separately. Ideal for use when canoeing or angling, this Sun Dolphin square back canoe features molded beverage holders in every seat and a cooler under the center seat for beverages and snacks.
Sun Dolphin Mackinaw 15.6′ Square Back Canoe:
Steers and maneuvers like a regular canoe with the built-in benefit of a motor transom
Ideally suited for electric trolling motors
Sturdy square back transom
Optimal stability and tracking
Rugged UV-stabilized Fortiflex high-density polyethylene
Storage compartment
Cooler under center seat
Paddle holders
Capacity for 3
Beverage holders molded into every seat
Motor not included
Sun Dolphin square back canoe is CE rated
reviews
I received my canoe about three weeks after ordering it. Having read some of the reviews, I unpacked it from the plastic bag it was shipped in to make sure no damage. Sure enough, there was a large gash in the hull with a hole through the skin. I contacted customer service and they immediately ordered a replacement and provided instructions to ship the damaged one back. Today I received my replacement in immaculate condition. I took it to a near by river and tested it out. Superb canoe for the money. Light weight tracks well and relatively stable (as canoes go). An excellent boat for the money and customer service was outstanding to work with. My advice to the manufacturer would be to beef up the shipping container. I love this canoe.
I called the canoe a boat because it wouldn't work well in shallow water or fast moving rivers like a canoe would. It is ideal for fishing in lakes in my area. I mounted two swivel seats to a board and attach the board to the canoe seat with Cam Bucket tie downs when I get to the lake. I used tie downs so I can remove the seats during game transport and storage. My adult son and i used it last Sunday and it worked like a charm with the Minn Kola trolling motor that I bought a Walmart. We fished for 6 hours and boat and the seats were very comfortable.
My conoe arrived 2 days late. But,the overall service was very decent. It arrived with some cosmetic scratches that were minor…looked as if it was done before packaging. The conoe itself is in perfect condition! It handles great,the built in compartments are convenient,rod straps,molded rod holders,cupholders,paddle clamps and option to add a trolling motor is cool. My family and dogs just love the time we spend on the mighty Columbia River in Oregon! It's very stable and easy to climb into. My wife,14yr old daughter,myself and 2 dogs fit comfortably with plenty of room for our gear. Excellent conoe for the price!
Canoe looks solid only complaint is the color is totally different from the picture of it.

The boat came early, and i braved the 33 degree weather to test it out. This canoe tracks very well, and is stable enough for two people to easily fish off of. The only reason I gave it 4 stars is because it was shipped without any packaging, and had some deep scratches on it. It isn't a big deal, but I think they should have had to try and protect there product. Also just an FYI. In CA if you put a motor on any sized boat. It is required to be registered. DMV boat101 forum.

This boat is nice, spacious, and just an all around good looking boat for the price and materials. I was a little nervous waiting for it to come in after reading some reviews about warped edges and big dents from delivery, but when it came in it was perfect. The delivery company was great, they called to schedule delivery and then called again an hour before, they also carried it to my backyard for me. No warped edges, no dents, the cooler compartment is small so good for short trips and for long trips its another storage compartment.
When I ordered the canoe online it said it would be here by July 5th. The shipping company did not deliver the canoe until the 13th so we had to reschedule our planned camping trip. I opened the plastic wrap on the canoe right away only to notice there was a big gash cut in the bottom of the canoe. The replacement canoe is supposed to be here today July 27th so we still have not been able to go on our camping trip. If I did not already order the trolling motor and all the accessories for the canoe I would have just cancelled the order. And the fact that my 3 y/o twins were in love with the canoe when it arrived made it harder not to cancel. I just hope their are no problems with the new canoe when it arrives. This review will not load the pictures of the damaged canoe either.
Sun Dolphin Mackinaw 15.6' Canoe: The perfect family recreational canoeHull design optimizes stabilityTracks and paddles with easeRugged UV-stabilized Fortiflex high-density polyethyleneCapacity for 3...
Sun Dolphin Mackinaw 15.6' Square Stern Canoe, Hazelnut: Steers and maneuvers like a regular canoe with the built-in benefit of a motor transomIdeally suited for electric trolling motorsSturdy square ...
KL Industries Sun Dolphin Mackinaw 15.6 foot Square Back Canoe