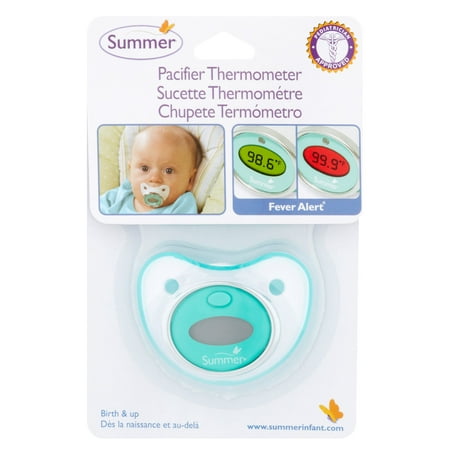 Pacifier Thermometer Summer Infant Pacifier Thermometer, 2-Piece:
Protective cover included for clean storage or travel
Fever Alert glow feature to indicate fever
Memory feature to help monitor child's progress
Auto power-off to preserve battery life
Comfortable orthodontic nipple
Beeps when readings are complete
reviews
I love this , it makes it so much easier on me to take my children's temps . My kids take it right away ! It relieves all the stress and hassle of regular thermometers and doesn't make my sick babies any fussier! A++!!!
Makes it so much easier to get a line on whether your infant has a fever. My son loves it as he is a hands-on dad. Tested accuracy against external thermometer under arm and forehead thermal strips and tests true to temperature noted by others.
I have only used this once and the baby wasn't sick. Just wanted to try it. Should work well with very young babies or those toddlers who still use pacificers
I purchased this pacifier thermometer as a gift for a baby shower. I think the product itself looked great and is a idea for babies versus the ear thermometer. The price was really good also.
use this on a my new granddaughter…it works great
I bought this hoping that it would be easy to take my baby's temperature. Unfortunately, it didn't work. The baby did enjoy the soother aspect.