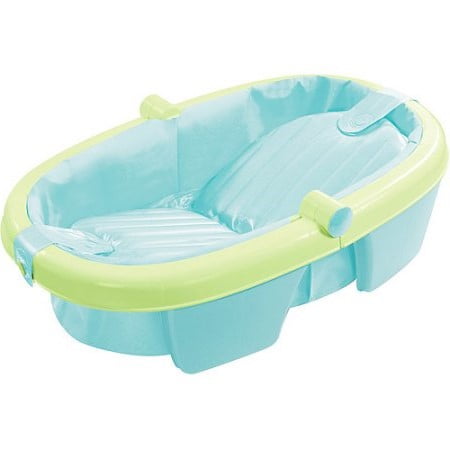 The Summer Infant Newborn-to-Toddler Portable Folding Bathtub will give your little one a positive bathing experience. Made with a durable vinyl liner, the spacious design features a gentle incline on one end to support your baby's head, neck and back. The comfortable base on the rear end is soft and textured to accommodate your growing child and provide maximum comfort. After bath time, simply release the plug to drain out the water. With this toddler bathtub, you get a folding option that comes in handy for easy storage when not in use. This product is lightweight and durable, so you can pack it inside your vehicle on road trips. The Summer Infant bathtub makes an excellent gift idea for baby showers and is a must-have when setting up a nursery for your little one. This item will fit inside your bathtub, as well as many large sinks. Summer Infant Newborn-to-Toddler Portable Folding Bathtub:
Grows with your baby from newborn to toddler
Incline position for newborns
Inflatable toddler bath tub with base for extra-soft cushion for baby's bottom
Compact fold for easy storage
Large open tub
Durable vinyl liner
Easy-release drain plug
Tub is 27″ x 17″ x 8″ (when fully opened)
Provides a comfortable bathing station for your little bundle of joy
Unique design helps prevent your baby from slipping and sliding
Lightweight and portable
Color: blue
reviews
Bought for a friend and already had one so will have her mother-in-law use, since she is the babysitter. Nice and handy.
I really like this product it is easy to use and transport. It's wonderful for travel which with our busy schedule it make it a plus.
Feel proud after using it
I had bought this bath for my daughter,with the intention that it would grow with her,and it has,she is now 1year 5 months and this is the exact bath she is still using,i love the sturdyness,plus the comfortable padding,and she loves it so much also.
I have no room in my bathroom to store a baby tub so this tub is perfect. So When im done i will clean it out and fold it in the corner( you don't even notice it in the room) of her room for future use. only compliant is the air stoppers( to keep it inflated) wont stay so we have to find a way to make it stay b4 she gets here
This was a product that I bought for a friend and she really enojoys it. It was bought at a great price. It shipped to the store quick. Baby loves it also. Smiles every time he gets in it.
Pros: its easy to put together and he doesnt slip or anything. I can take my son a bath without help from another. I dont like using my tub or i would need his fathers help, and this makes it so that I can do it alone. Cons: you cant always get the parts that hold air to stay closed. other then that I love it.
Worst tub ever. I had received a different one from baby shower and he ended up hating it. So I went to Walmart and purchase this one. Just used it this morning for the first time. He wasn't secure and had chances to fall off the inflatable piece. I had a hard time keeping him in place. Hurting my back in the mean time. I literally grab my old one and pushed that one out the way. I am definitely going to return it and get my money back. I can't believe this is even out on market for babies. I can see for toddler that can sit up and hold balance but for a newborn to 4/5 months I don't think so. My son is almost 4 months. He didn't look comfortable either. DO NOT WASTE YOUR MONEY ON IT!!!! I didn't even want to give a star.
The Newborn To Toddler Folding Tub from Summer Infant offers versatility and convenience. The large 2 year tub grows with your child, starting with a gentle inclined position for infants, and ending w...