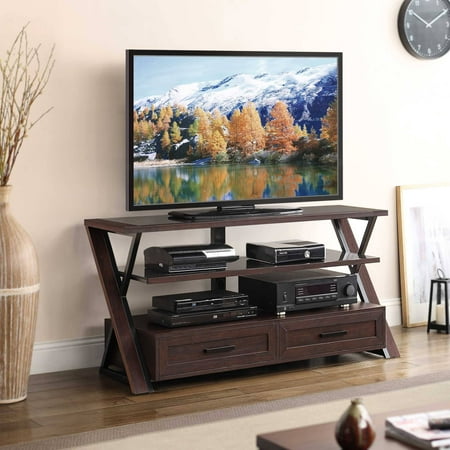 The 54 inch 3-in-1 flat panel, two-drawer console has a stunning contemporary look and provides plenty of home theater enhancements to your home. Three TV display options are available in this one console. Use the rear column with built-in swivel mount, hang on the wall using the universal bracket provided or use your TV's stand and place on the top shelf. The swivel mount pans side to side up to 45 degrees for optimal viewing. Two media storage drawers provide storage of DVDs, video games, remotes and other entertainment essentials. Black, tempered glass shelves are ideal for display and storage. The sturdy, X-shaped wood legs and drawers are finished with beautiful birch veneers in a cherry finish.
Stinson Brown Flat Panel TV Console for TVs up to 60″:
Accommodates most flat panel TVs up to 60″ up to 135 lbs
Swinging Floater mounting system for wall-mounted look
Metal with high-grade engineered wood construction with laminate finish
Black tempered glass shelves
Media storage drawer
Cable management
Floor levelers
Dimensions: 52″W x 21.5″D x 69.25″H
1-year limited manufacturer's warranty
Model# XLDEC54-NV
Televisions sold separately.
reviews
I am very happy with the purchase. If I were to find one flaw it would be the imitation wood finish. It peels off quite easily unfortunately. The manufacturer does supply a color pen which does come in handy due to scuffling during shipping. But looks great in my room.
Shipped in good condition for pickup from a Walmart store. Fairly easy to assemble. Directions are complete and straght-forward. Large assortment of bolts of various sizes for mounting TV to the floating swivel. Nonetheless the M8 x 16 bolts seemed too short for my Samsung 60 in (weren't long enough to seat onto the threads). Will get 2 bolts from local hardware store which are 20, or 25 mm in length for a certain fit. Alert on size of package, as delivered to the store: e-mail announcing that package was ready for pick-up indicated box size of 54 x 20 x 13.5. It was actually 54 x 22 x 15. Still fit in my car, but not as easily as I had originally thought.
I love the fact that it had drawers so I could still store items and the feed through pole in the back to hide wires was great…very sturdy
Just the type of stand I was looking for. For the most part it was easy to put together and the way the parts all came labeled and packaged were superb. Only thing I was hoping for was that the swivel option could go a bit higher, but otherwise I love it. Very sturdy and great quality.
Putting it together took a lot longer than expected but directions were very detailed and all the hardware to assemble was very organized in bags labeled with different letters. Very sturdy product! We are very pleased with it!
It came on time and in good shape. The way it's packaged seemed to be pretty good because I didn't have any issues. I will say it was a bit overwhelming when I took out all of the parts but, if you don't let yourself get overwhelmed and take your time then you will be fine. Looked exactly like the pictures and holds a really heavy tv with no problem! Love it!!
This table looked just like the pictures, arrived ahead of estimated date, and held my 60″ TV just fine. The only difficulty encountered was the instructions were a little difficult and it took two of us to put it together about an hour.
Damaged and no replacement parts available. Don't buy this, don't trouble yourself