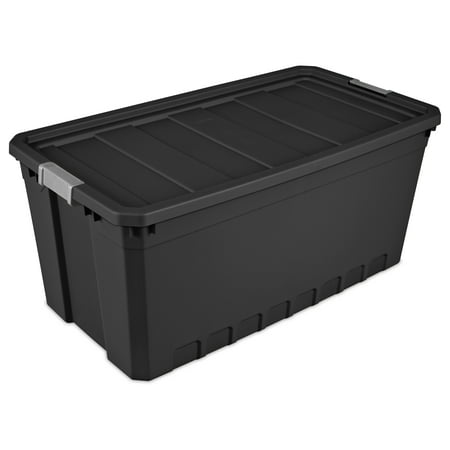 The Sterilite 50 Gallon / 189 Liter Modular Stacker Tote is the ideal durable storage solution for larger items or to store multiple items in one place. Heavy duty latches keep the lid attached to the base and ensure items remain safely stored inside. The deep indexed lid allows multiple totes to stack securely, and because it is modular, Stacker Totes and Stacker Clears are able to stack interchangeably. This Modular Stacker Tote is ideal for storing large bulky items in the basement, garage or attic such as bedding, athletic or camping equipment.
Sterilite 50-Gallon Stacker Tote, Black:
50-gallon storage tote
Durable latches for security
Indexed lid for easy stacking
Black base and lid
reviews
I used this on a hitch basket on the back of my van for a 5,000 mile trip out west. It kept everything dry and dust free the entire time. I had a solar panel resting on the lid and room for my solar battery next to the bin. Worked better than I expected.
I use mine to store my water nutrients in my flood and drain system for hydroponics. It was the perfect size and a hole lot cheaper than the one they sell at the hydroponic store. I highly recommend it to store water in it about 75% of the container.
This was exactly what I needed for storage. Perfect size and not hard to snap on lid. Only had it a couple months so let's see if it can stand the test of time.
I will be buying more of these for large holiday decorations. Great for the price!
Great storage bin only complaint is the lid could be more durable. It warps in, not very firm, if not super filled and stacked on.
Large size, heavy duty. Works well for storing large items, as long as they aren't heavy. Would never be able to lift this storage bin if filled with heavy objects. Great size for those large items that just need to be put someplace safe.
Whenever I try to store large items I run into the problem that almost all storage bins aren't that deep. This was at least 2″ taller than the rest. It was stiffer and off sturdier plastic than those clear boxes. The lid has good stap over the lip. I fill it full and it doesn't bow in the width at the middle. A great product. I plan to buy more and berry the old ones in the ground for square foot gardening.
The bin was a good purchase but the top could be a little stronger.
Sterilite 50-Gallon Stacker Tote, Black:50-gallon storage toteDurable latches for securityIndexed lid for easy stackingBlack base and lid